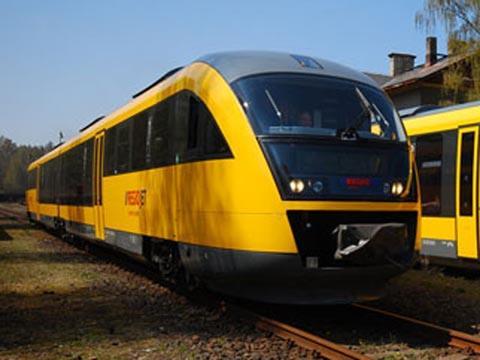 SLOVAKIA: RegioJet has acquired 10 second-hand double-deck coaches from DB Regio, which it plans to use to provide a rapid increase in capacity on Bratislava – Dunajská Streda – Komárno services operated under contract to the Ministry of Transport.
The Dbz750 coaches were built at the Bautzen plant in the early 1990s. RegioJet will operate them in two five-car rakes, hauled by Siemens ER20 diesel locomotives to be leased from Beacon Rail. They are scheduled to enter service on peak-hour trains on September 2, following the testing and approval process.
Slovakia's busiest single-track non-electrified line has seen significant growth in ridership since RegioJet took over from state operator ZSSK in March 2012. The extra rolling stock will enable RegioJet to provide over 100 more seats per train compared to the Bombardier Talent and Siemens Desiro DMUs currently employed on the line, although the operator and ministry say even more capacity will be needed to cope with daily demand.