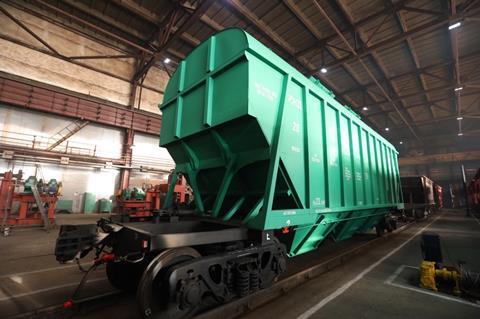 RUSSIA: RM Rail's Ruzkhimmash plant has developed a further four types of hopper wagon, taking its wagon range to 78 designs.
The Type 19-1273 (-01) and 19-1274 (-01) are designed to carry mineral fertilisers or grain, with a corrosion-resistant internal protective coating making them suitable for transporting food products.
They are designed for use across the 1 520 mm gauge region at temperatures between -60°C and 50°C, and can be supplied with 23·5 tonne or 25 tonne axleload bogies as required.
Deputy General Director, Sales, Alexander Kulikov said the wagons offered an 'ideal average' capacity of 107 m3, positioned between its 105 m3 and 127 m3 designs, which the manufacturer hopes will attract new customers.