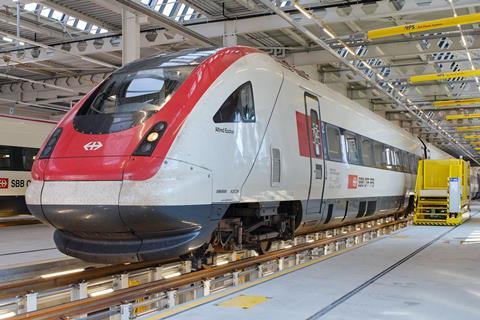 SWITZERLAND: Swiss Federal Railways has announced plans to undertake the SFr400m mid-life refurbishment of its 44 ICN tilting inter-city trainsets in 2021-29.
The work to ensure a further 20 years of operation of the RABDe 500 fleet will incorporate elements from the IC2000 modernisation programme.
It will include a refurbished interior with revised lighting, a replacement passenger information system, tables with integrated power sockets and improved mobile phone reception. The restaurant car will be modernised and the family zone redesigned.
As far as possible, SBB will adapt the vehicles to meet the requirements of current accessibility legislation.
The work is to be undertaken at SBB's Yverdon-les-Bains workshops, with around 110 employees working on the project. The first refurbished vehicle is expected to be completed by the end of 2022.
The 220 km/h seven-car trainsets were suplied between 1999 and 2005 by a consortium formed of Adtranz and Fiat-SIG, later Bombardier Transportation and Alstom.
They are mainly used on the Genève-Aéroport – Biel/Bienne – Basel/St Gallen routes and on the north-south corridor, where they are due to be displaced from the Gotthard route by Stadler Giruno trainsets. They will then be redeployed in Jura and eastern Switzerland.
Under current plans, the fleet would be withdrawn in 2036-43.