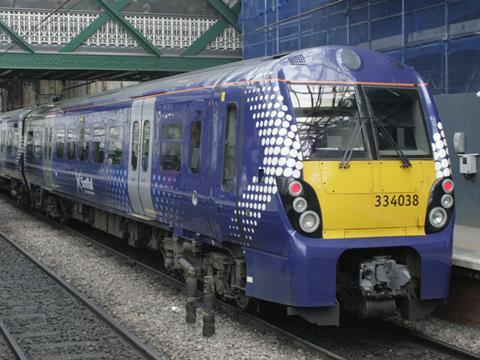 UK: An integrated driver advisory and energy metering system developed by TTG Transportation Technology is to be fitted to 40 Alstom Class 334 electric multiple-units operated by First ScotRail.
The Energymiser system is intended to enable the train operator to optimise both timekeeping and energy savings, and ensure accurate billing.
The master smart display will act as the driver-machine interface for the advisory system as well as the data handling system for energy measurement. A transducer from Mors Smitt will take voltage and current measurements at the pantograph, with the data aggregated with location and time stamps and stored on non-volatile media for up to 60 days for uploading to the billing server using the mobile phone network.
There will be ethernet access for maintenance and options to add remote condition monitoring and diagnostics.
'We are delighted to be the first company selected to supply an integrated driver advisory and energy metering system, demonstrating our commitment to the continued development of our system', said TTG Managing Director Dale Coleman. 'Both systems are truly complementary for electric trains and the benefit of an integrated system compared to two stand-alone systems is very clear.'