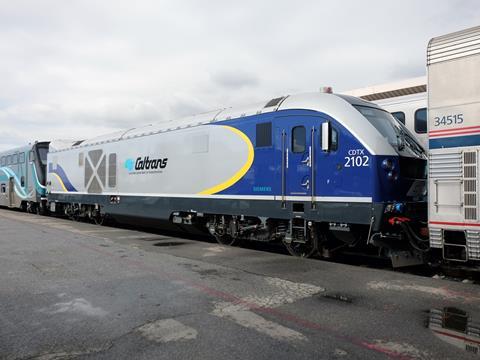 USA: California's San Joaquin Regional Rail Commission has ordered four SC-44 Charger diesel locomotives from Siemens, with an option for four more, to support an expansion of its Altamont Corridor Express commuter rail service.
Launched in 1998 with just two trains/day, ACE currently operates four trains each way per day between San Jose and Stockton; last year it carried 1·3 million passengers. The operator is also looking at extending some trains to serve Ceres, Modesto and Sacramento, with public consultation on the draft environmental impact report for the Lathrop – Ceres – Modesto route closing on May 28.
To be built at the Siemens plant in Sacramento, the Chargers are due for delivery from December 2019. Powered by a 4 400 hp Cummins QSK95 engine, they will be able to haul 10-car trains, a 43% increase from the seven vehicles which can be handled by the operator's existing F40PH locomotives. They are also expected to deliver a 16% improvement in fuel efficiency.
Acquisition of the Tier 4-compliant locomotives is being part-funded by grants from the Bay Area Air Quality Management District, the San Joaquin Valley Air Pollution Control District, the Transit and Intercity Rail Capital Program, and the Low Carbon Transit Operations Program.
'We are proud of the important part that this line has played in developing a strong, sustainable link between Stockton and the greater Bay Area', said SJRRC Chair Steve Dresser. 'With this announcement, we will be taking even more cars off the road, and providing a quieter, smoother ride for our growing number of passengers.'