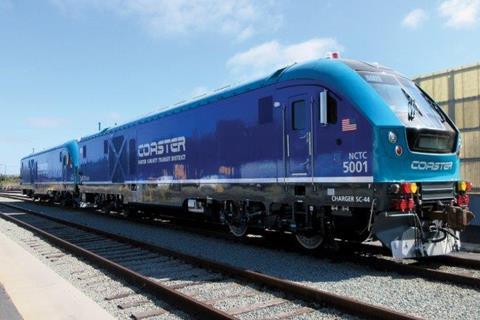 USA: San Diego's North County Transit District has ordered a further two Siemens Mobility Charger locomotives, taking its total order to nine.
The latest order announced on October 26 will complete NCTD's project to replace the locomotives currently used on Coaster commuter services with a more modern, efficient and environmentally friendlier design, and will also expand the fleet to enable it to nearly double service frequencies.
NCTD ordered an initial five Charger locomotives in 2018, and these are currently being tested and commissioned. In 2019 the board approved the purchase of two more Charger locomotives, as well as two five-car push-pull sets of Bombardier Transportation BiLevel double-deck coaches.
NCTD has purchased the locomotives as part of a multi-state procurement with the California and Illinois departments of transport, which was designed to lower procurement costs and aid the future acquisition of spare parts
'These two additional locomotives represent an important milestone for us, bringing the total number of locomotives Siemens Mobility has sold in North America to 300', said Michael Cahill, President of Siemens Mobility Rolling Stock in North America.
In addition to meeting EPA Tier 4 emissions standards, the Charger has recently been verified as meeting California Air Resources Board standards.