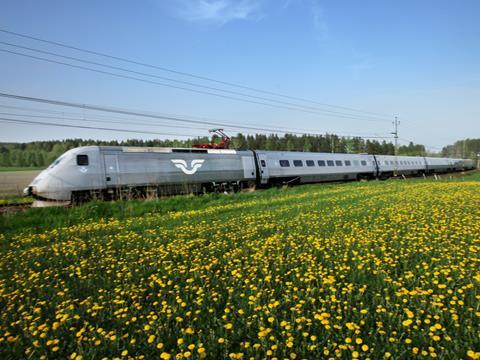 SWEDEN: State-owned passenger operator SJ announced on January 16 that it is to invest SKr3·5bn in the modernisation and repowering of its 36 SJ2000 tilting trains. Originally designated X2000, the 200 km/h trains date from the late 1980s and SJ had been considering whether to refurbish or replace them.
The first refurbished SJ2000 is expected to enter service in 2015, and the last will be completed by 2019.
As well as a full interior refit, the trains will get new electrical equipment, which is intended to reduce energy consumption by at least 10%, while improving their performance and reliability. Under a contract valued at US$200m, ABB is to supply an entire power conversion and control system, including transformers, traction converters, battery chargers, as well as an on-board information and entertainment system.
The refurbishment is expected to position SJ as 'the passengers' first choice for the next 20 years', according to its CEO Crister Fritzson. Following the deregulation of domestic inter-city services, SJ is already facing open access competition from Veolia and Svenska Tågkompaniet, and last year MTR Nordic ordered a fleet of Stadler Flirt EMUs to launch its own Stockholm - Göteborg service.
Noting that passenger-journeys on the Swedish network had increased by 59% between 1997 and 2010, Fritzson said 'the demand for environmentally-friendly and comfortable travel will keep increasing. All the signs point to a further strong increase, not least in terms of business travel as companies live up to their sustainability commitments. This initiative will enable SJ to offer the most comfortable train journeys on the main inter-city lines in Sweden for a long time ahead.'