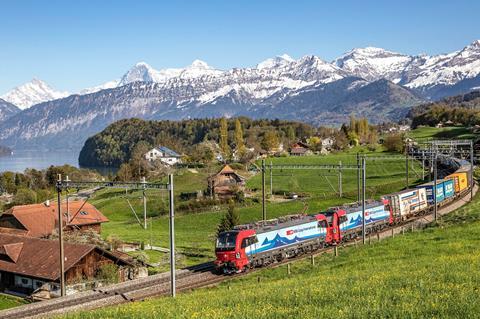 SWITZERLAND: SüdLeasing has placed an order for Siemens Mobility to supply and maintain 20 Vectron multisystem locomotives equipped with the XLoad package to increase the locos' haulage capability.
The 160 km/h locos will be delivered from early 2024 and leased by SBB Cargo International under a long-term rental agreement with a flexible term.
XLoad has been developed to improve traction performance and increase trailing loads. This will enable the use of one four-axle locomotive rather than two locos or a six-axle loco on freight trains on the north-south trans-Alpine corridor from the ports of Amsterdam, Rotterdam and Antwerpen to Italy.
'Thanks to XLoad, the locomotives achieve tractive power previously not possible with four-axle locomotives', said CEO of Rolling Stock at Siemens Mobility Albrecht Neumann when the contract was announced on July 4. 'Our customer can use the locomotives even more efficiently in the Alpine region.'
The locos will also be equipped with ETCS Baseline 3 and national train control systems with approval for operation in Austria, Belgium, Germany, Italy, Switzerland and the Netherlands.