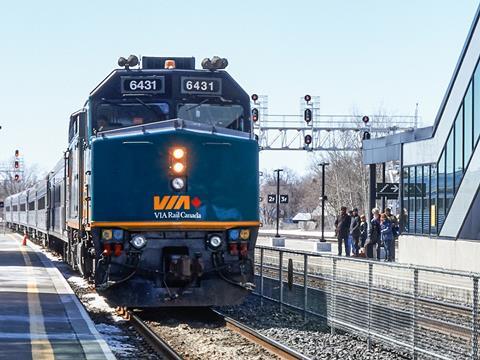 CANADA: Funding for the procurement of 32 push-pull trainsets to replace the locomotive-hauled stock which VIA Rail operates on the Québec – Montréal – Toronto – Windsor corridor was confirmed in the 2018 federal budget presented by Minister of Finance Bill Morneau on February 27. The value was not released, owing to the forthcoming procurement of the new fleet.
The national passenger operator said it would issue a request for proposals to launch a 'fair, open and transparent' bidding process which would be 'accessible to all qualified companies'.
VIA Rail said its current fleet on the Québec – Windsor corridor was reaching the end of its life after 35 years in service, and the new trainsets to be introduced by 2022 would provide safer, faster, more frequent, more accessible and more environmentally-friendly services.
Push-pull trainsets have been specified to improve operational efficiency and provide more passenger capacity. These would be required to have Tier 4-compliant engines to improve fuel efficiency and reduce environmental impact, and should offer 'the option to operate on electrified rail infrastructure as it becomes available'.
The budget also includes C$3m in 2018-19, C$3m in 2019-20 and C$2m in 2010-21 for Transport Canada to support continued in-depth assessment of VIA Rail's high-frequency rail proposal to upgrade the Toronto – Québec corridor. There is a further C$11m for the Remote Passenger Rail Programme, which supports the service from The Pas to Pukatawagan in northern Manitoba and the Sept-Îles – Schefferville service in Québec and Labrador.