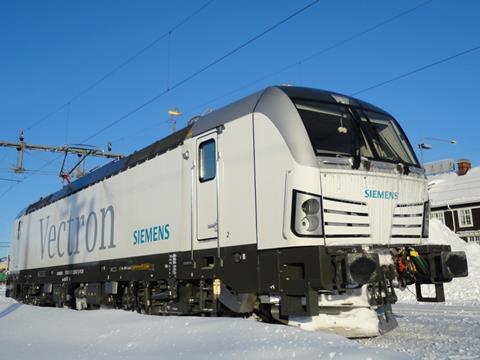 FINLAND: National operator VR Group named Siemens as the winner of an order to supply 80 electric locomotives on December 20.
The contract to be signed in early 2014 is worth more than €300m, making it the largest rolling stock investment by VR Group and according to Siemens the second-largest in Europe this year. There are options for a further 97 locomotives and 10 years of maintenance.
VR Group's President & CEO Mikael Aro said three bidders had been shortlisted for the contract, with Siemens chosen on the basis of on price, reliability and guarantees offered. 'The selection was made after a long and careful examination', said Aro. 'The electric locomotive manufactured by Siemens is well suited to the challenging conditions in Finland.'
The first broad gauge version of the Vectron locomotive family is to be manufactured at Siemens' München plant, with bogies supplied from Graz. An initial 10 locomotives are scheduled to enter service in 2017, before series production begins in 2018; the entire fleet is delivered by 2026.
The 25 kV 50 Hz Vectrons will replace existing Soviet-built locomotives dating from the 1970s on passenger and freight services on the 1 524 mm gauge network. The 19 m long locomotives weighing 90 tonnes will have a maximum speed of 200 km/h and the capability of hauling 2 000 tonne trains. Rated at 6·4 MW, they will be equipped for regenerative braking, produce less waste heat than previous locomotives, and be equipped with two diesel engines for 'last mile' operation on unelectrified industrial lines, at docks and in yards.
Siemens said it was able to prove the capabilities of its Vectron family in the extreme northern European climate during tests undertaken in Sweden and Norway. The Finnish locomotives will be customised with modified air intakes for use in snow and ice at temperatures down to -40°C, rather than the -25°C Siemens normally designs for.