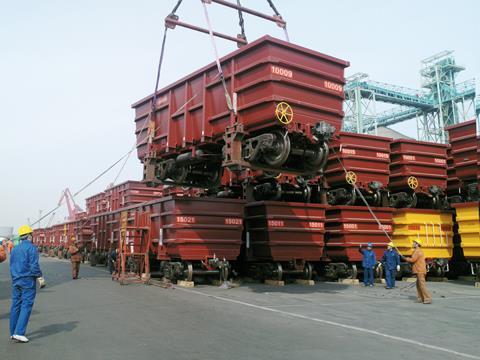 Belarus: Metrowagonmash is to supply three trainsets to Minsk Metro.
Brazil: Voith Turbo is supplying DIWA powerpacks, bogies and transmission components for 34 VLT DMUs being built by Bom Sinal for the cities of Natal (eight), João Pessoa (12), Fortaleza (eight) and Teresina (six).
Cameroon: Camrail is taking delivery of 40 coaches ordered from CSR Nanjing Puzhen at a cost of €18m.
China: CSR Nanjing Puzhen is to supply 40 six-car trainsets for Suzhou metro Line 4, to be delivered in 2015-16. Škoda Electric is supplying traction motors under a KC1·1bn contract.
CNR Changchun is to supply 38 six-car metro trainsets for Shenzhen lines 2 and 5 in 2014-15, while Wuhan Line 4 is to receive 24 six-car sets.
CSR Sifang is to supply 32 four-car 25 kV AC EMUs for the future suburban Line S1 in Wenzhou.The first is to be delivered in November 2014.
CSR Yangtze and CSR Erqi are to supply Shenhua Rail with wagons worth 3·17bn yuan.
Guangzhou Zhongche Rail Sales & Leasing has ordered CSR Nanjing Puzhen diesel locos worth 150m yuan.
Foshan MRT Development Co has awarded CSR Qingdao Sifang a 120m yuan contract to supply rapid transit vehicles.
CSR Zhuzhou has announced orders totalling 1·27bn yuan to supply rapid transit vehicles to Nanning and Shanghai.
Ethiopia: CNR Corp is to supply 41 trams to Addis Abeba. Deliveries of the three-section 70% low-floor vehicles are to begin at the end of 2014.
Finland: VR's order for 80 Siemens Vectron (RG 2.14 p10) locomotives is worth €314·5m plus VAT.
Germany: On March 12 DB awarded Pesa a contract to supply two two-car and seven three-car Link DMUs by May 2016 for Dreieichbahn services around Frankfurt.
DB placed a €146m contract for 19 three-car and 10 five-car Bombardier Talent 2 EMUs on March 20, the 13th order under a €1bn framework agreed in 2007. They are due to enter traffic on S-Bahn Mitteldeutschland services from autumn 2016.
Special-purpose company Paribus-DIF-Netz-West-Lokomotiven has become the first private-sector customer for Bombardier's Traxx Multi-Engine locomotive, with an order for 15 worth around €60m announced on March 19. They are to be leased to the future operator of Hamburg – Westerland (Sylt) passenger services in 2015-25, and there is an option for up to five more.
India: Integral Coach Factory has completed its first stainless steel LHB coach to be developed in-house.
Indonesia: Last month Jakarta commuter operator KCJ began putting into service 18 high capacity 10-car EMUs dating from 1990-91 which have been acquired second-hand from Japan (RG 12.13 p11).
Italy: Freight operator GTS Rail has invested €11m in new stock, including 100 articulated 90 ft intermodal flat wagons built by Legios and 30 low-floor Multifret wagons.
Ferrovienord has placed a €17m order for two six-car Alstom Coradia Meridian EMUs to provide additional capacity during Expo 2015 in Milano.
Kazakhstan: On February 26 CSR Ziyang was awarded a contract to supply a further 12 main line diesel freight locomotives to a Kazakh customer by the end of the year.
South Korea: Hyundai Rotem has been awarded a 324bn won contract to supply 10 10-car 300 km/h trainsets for the Suseo High Speed Railway subsidiary of Korail, which will operate Seoul – Busan/Mokpo services from 2017. Korail has also placed a 494bn won order for 15 trainsets for use on the 120 km Wonju – Gangneung route which is to open in late 2017.
Mongolia: Ulaanbaatar Railway has awarded Transmashholding's Tver plant a contract to supply 12 second and two first class compartment coaches, and a staff car with a compartment for disabled passengers.
Netherlands: Den Haag city transport operator HTM has placed a €55m order for 20 more Siemens Avenio low-floor trams as an option on a contract for 40 signed in 2011.
NS subsidiary NedTrain is to modernise the fleet of 418 VIRM double-deck EMU cars by 2020. Aerodynamic improvements and low-energy HVAC and lighting are expected to increase efficiency by 20%, and an accessible toilet will be fitted.
Russia: Central Suburban Passenger Co has ordered four 12-car and 22 11-car ED4M EMUs from Transmashholding's Demikhovo plant for use around Moscow. It has also signed a memorandum with Vnesheconombank to explore the possibility of financing the acquisition of more than 50 EMUs over the next three years.
Severstal's Cherepovets Steel Mill has signed an agreement to supply 5 000 tonnes of steel a month to United Wagon Co's Tikhvin plant.
Federal Passenger Co is to spend 47bn roubles on 765 new coaches in 2014-16. Its fleet currently comprises 22 109 coaches.
Slovakia: Košice city transport operator DPMK has awarded Czech company Pragoimex a €33·3m contract to supply 23 trams and provide 15 years of support. Deliveries of the partly low-floor VarioLF2plus trams are scheduled to run from August 2014 to October 2015. There is an option for a further 23 trams.
Spain: Patentes Talgo has been awarded an €8m contract to undertake mid-life refurbishment of RENFE's Talgo VI passenger car fleet.
Tanzania: Kirow is to supply a metre-gauge Multi Tasker 800 N breakdown crane to Tanzania Railways Ltd.