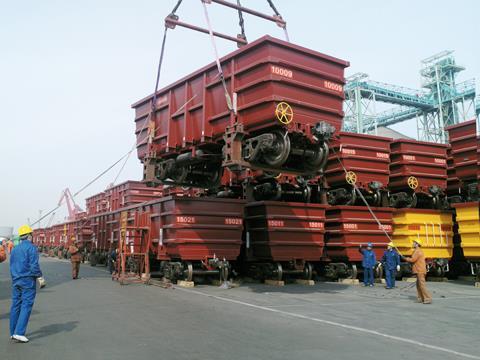 Azerbaijan: ADDY has ordered 2900 wagons from Uralvagonzavod.
Belarus: Belarus Railways and United Wagon Co have formed a strategic partnership to maintain wagons with Barber bogies in Belarus.
Brazil: Trensurb has awarded Alstom a €2m five-year contract to maintain the 15 Alstom/CAF trainsets on Porto Alegre metro Line 1.
Czech Republic: CD has awarded Škoda Transportation a KC1·1bn contract to refurbish 93 coaches for Praha – Hamburg services.
Germany: The first two of 100 Vossloh Kiepe/Alstom/HeiterBlick TW3000 high-floor LRVs ordered by Üstra entered service on Hannover Route 7 on March 15 (RG 5.11 p20).
A joint order for Bombardier Flexity LRVs has been placed by Düsseldorf's Rheinbahn (42 vehicles to be delivered in 2017-20 at cost of €127m, with options for 16) and Köln's KVB (20 for €64m in 2020-21).
On March 20 DB and Bombardier announced an out-of-court agreement 'to amicably settle their long-standing legal disputes' regarding rolling stock projects including the Talent 2, Berlin S-Bahn stock, and regional and commuter trains in Bayern, Nordrhein-Westfalen and Baden-Württemberg. Details were not disclosed.
Italy: AnsaldoBreda has signed an €8·5m contract to maintain trams in Firenze for five years, with an option for a further two years.
Lithuania: Bryansk Engineering Plant has delivered 50 Type 19-3054 hopper wagons to Transchema, which plans to order 20 more.
Morocco: Polytra has delivered 20 ex-SNCF coaches to Morocco; after withdrawal in 2006 they were sold to GFR in Romania but never used there.
Netherlands: NS Reizigers has awarded KPN a a contract to supply and maintain for eight years 1400 GSM-R cab radios. Custom-designed Funkwerk filters will block radio signals that might cause interference.
Voestalpine Railpro has awarded Kolowag a €1m contract to supply 26 multi-purpose 120 km/h bogie flat wagons, which will have container fixing points to permit their use in revenue freight service as well on infrastructure maintenance trains.
Poland: Koleje Dolnolskie signed a 78m złoty order for five four-car Newag Impuls 31WEa EMUs on March 10. The 160 km/h TSI-compliant units with a capacity of 460 passengers are to be delivered by the end of this year for use on the Wrocław – Rawicz route.
Broad gauge operator PKP LHS is to test a Kazakh-built GE TE33A locomotive as a potential replacement for its M62 fleet.
Romania: The Electroputere VFU Pascani repair plant plans to develop a 120 km/h demonstrator DMU to be shown at InnoTrans 2016.
Softronic is to build a second Hyperion EMU for use on open access services by its Softrans subsidiary (RG 9.14 p10).
Russia: RZD is testing a prototype TMH Bryansk 2TE25KM locomotive, which features improved cab crash protection, HVAC and vibration isolation as well as greater hauling power than existing designs.
Rosbank subsidiary RB Leasing has provided Freight One with a 5·9bn rouble seven-year financing facility through the leaseback of over 3000 wagons
Škoda Transportation's local subsidiary OOO Vagonmaš has won a 3·8bn rouble contract to supply eight six-car trainsets for St Petersburg metro Line 3 in 2015-17. The use of lightweight aluminium sandwich panels and regenerative braking is expected to achieve energy savings of up to 30%.
Saudi Arabia: SRO has awarded Talgo a contract worth in excess of US$200m to supply six 200 km/h diesel trainsets for the 480 km Riyadh – Dammam line. They will be similar to the Talgo 350 sets for the Haramain High Speed Rail project, but will be diesel-electric rather than electric.
Dako-CZ is to supply braking systems for the 74 Inspiro trainsets which Siemens is to supply for Riyadh metro lines 1 and 2.
Spain: Kiruna Wagon, steel supplier SSAB and Luleå University of Technology are working on an EU-backed to develop a wagon for Iberpotash which the Swedish manufacturer believes is 'likely to become a new standard for future European bulk transport'. Research includes ways to reduce wear during the loading and unloading of bulk materials.
Sweden: Stadler has been awarded a SFr24m contract to install replacement ABB electrical equipment on SJ's 36 X2000 trainsets at a facility in Sweden.
UK: Eversholt Rail Group sold its freight fleet of 920 wagons to the Nacco (UK) Ltd subsidiary of CIT Group for an undisclosed price on February 27, saying it would now 'focus on our core activities of leasing passenger rolling stock and freight locomotives'.
Hitachi Rail Europe and Abellio announced the signing of the contract for the supply and maintenance of 46 three-car and 24 four-car AT200 EMUs for the next ScotRail franchise on March 12 (RG 11.14 p10). The EMUs are being financed by SMBC Leasing's Caledonian Rail Leasing subsidiary, and the Scottish government has guaranteed their use for at least 25 years at which point it could buy the fleet for a nominal £1.
USA: Jilin Midas Aluminium Industries has entered the US market with a $58·3m contract to supply alloy extrusion profiles and fabricated parts for a rail project in 2015-20.
The Greenbrier Companies received new orders for 10100 wagons worth $1·09bn in the quarter to February 28.
Metra has awarded Progress Rail Services a $91m contract to modernise 41 EMD FG40PH-2 and F40PHM-2 locos.