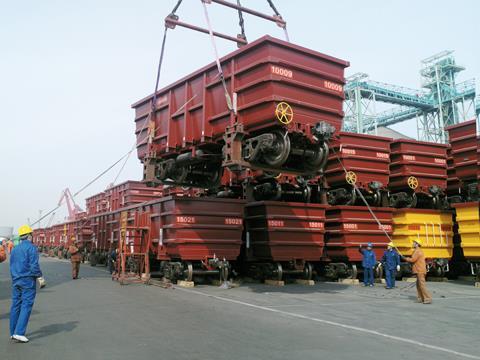 Canada: Project developer Rideau Transit Group has awarded Alstom a €200m contract to supply 38 Citadis Spirit light rail vehicles for Stage 2 of Ottawa's O-Train Confederation Line.
Montréal's AMT has awarded CRRC Tangshan a contract to supply 24 loco-hauled double-deck commuter coaches.
K+S Potash has taken delivery of the first of 200 wagons being supplied by National Steel Car for domestic traffic. They are to the same specification as wagons supplied last year for export traffic.
Czech Republic: European Locomotive Leasing has awarded Siemens a contract to supply a further eight 6·4 MW Siemens Vectron 200 km/h electric locomotives which D will lease to haul Praha - Berlin Euro­City passenger services. The contract announced on June 26 took the total number of Vectron electric locos ordered to 507, for 31 customers in 14 countries.
Denmark: DSB has awarded WSP a C$50m contract to provide technical and advisory services for its Trains of the Future rolling stock acquisition programme.
Estonia: EVR Cargo has awarded Russian manufacturers contracts totalling €17·8m for the supply of 300 container flat wagons for China - Europe traffic and 200 open wagons for traffic to and within Russia.
Finland: VR and Azot are to test the operation of 25 tonne axleload wagons leased from Vostok1520 between Russia and Finland during August.
France: Leasing company Akiem has awarded Alstom a €20m contract to undertake the mid-life overhaul of 23 BB36000 tri-voltage electric locos. The project runs to 2024 and will include bogie refurbishment, obsolescence monitoring, component repairs and cab modernisation.
Germany: Bremer Straßenbahn has awarded Siemens a contract to supply 67 Avenio trams with an option for up to 17 more.
Braunschweiger Verkehrs-GmbH has ordered seven Tramino II trams from a joint venture of Stadler Pankow and Solaris. Deliveries are due to begin in 2019, with half of the €18·9m cost to be met by Niedersachsen transport agency LNVG.
Guinea: TMH's Penzadieselmash has supplied two type 1PDG4A engines to replace PD1M engines on TEM2 locos.
Luxembourg: uro akovi Specijalna Vozila has won a 75m kuna contract to supply Zacns tank wagons to a customer in Luxembourg by Q2 2018.
Netherlands: On July 18 Syntus formally awarded Stadler Service Nederland a 15-year contract to maintain 16 Flirt EMUs scheduled to enter service between Zwolle, Kampen and Enschede in December. Five Stadler employees will undertake the work at a new depot in Hengelo.
Poland: Pesa is to modernise 20 PKP Intercity 141a coaches for 76m złoty, fitting new interiors, doors, windows and flooring.
Zachodniopomorskie voivodship has ordered six three-car and four four-car Newag Implus EMUs as a 148m złoty option on a previous contract for 17. They are to be delivered by the end of 2020 to enable EN57 EMUs to be cascaded or withdrawn.
MZK Bydgoszcz has exercised an option for an additional three Pesa Swing trams for €3·9m. Deliveries are due by the end of March.
Russia: Trading company Fobos-TS has signed a 111·3m rouble contract to supply seven Uraltransmash 71-407 trams to Kazan's Metroelektrotrans.
Sole bidder Elektrotransport has been selected to supply five trams to Novocherkassk for 81·5m roubles.
TikhvinChemMash has supplied Uralchem with a batch of ammonia tank wagons offering a capacity of 92·7 m3 and 60·2 tonnes, an increase of between 5% and 10% compared to older designs. Designed for loading ammonia at temperatures down to -33°C, they incorporate shade protection and built-in drainage and safety valves and have an expected service life of up to 40 years.
Kolomna tramway operator Mosobl­elektrotrans has announced that a 341m offer from Elektrotransport was the best bid for a contract to supply 22 single-section low-floor trams.
Serbia: Srbija Kargo has invited tenders for the supply of eight three-system electric freight locos, to be financed through an EBRD loan.
Slovakia: Bratislava-based Carbo Rail has acquired four 25 kV 50 Hz Class 230 electric locomotives from D Cargo which are undergoing heavy overhaul at the Pars Nova workshops in Šumperk.
Ukraine: Pesa is to supply 40 low-floor Fokstrot trams to Kyiv for 1·8bn hryvnia.
UK: Legal & General's LGIM Real Assets is providing £100m of long-term debt to finance leasing company Rock Rail's order for 750 Bombardier Aventra EMU cars for First MTR's South Western franchise. 'Our clients have a significant appetite to finance such assets which will offer them long-term, stable cash flows', said Bill Hughes, Head of LGIM Real Assets.
The Welsh Government is to provide £1·9m and Arriva Trains Wales £1m to lease five Porterbook Class 319 Flex electro-diesel multiple-units for use on the Wales & Borders franchise from 2018 until at least 2021.
Knorr-Bremse RailServices has completed the refurbishment of the first ScotRail Class 156 DMU owned by Angel Trains to be fitted with seats from Spanish company Fainsa; 38 Class 156 DMUs are being refurbished, with Fainsa seats to be retrofitted to the eight which have already returned to service.
USA: Kansas City council has approved the purchase of two more CAF Urbos trams to meet increasing demand on the KC Streetcar. Delivery is due in 24 months. The vehicles will cost $11·9m, including $2·1m for spare parts and support.
Long Island Rail Road has agreed a three-year deal to lease between eight and 21 MARC commuter rail coaches from Maryland Transit Administration to increase seating capacity on the Montauk branch during the summer season.
Vertex Railcar has won orders to supply more than 130 aggregate hopper wagons to an unnamed leasing company.