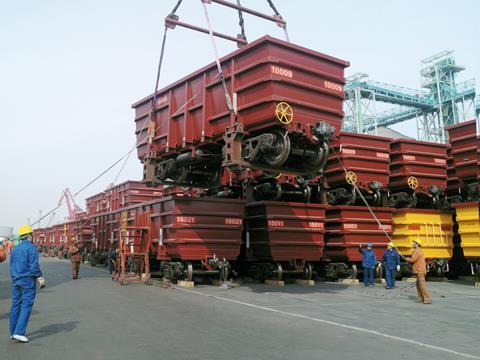 Australia: The Queensland government has selected a consortium of Bombardier, John Laing, Itochu and Uberior (Lloyds) for a 30-year PPP contract to supply and maintain 75 six-car EMUs for Brisbane under the New Generation Rolling Stock project.
Public Transport Victoria is undertaking a A$4·4m refurbishment of Melbourne's B-Class trams which will increase the capacity of each two-section car by seven to nine passengers.
Belarus: BC expects the first of three Pesa DP3 three-car low-floor articulated inter-regional DMUs to enter service by the end of the year.
Brazil: Voith Engineering Services has announced its first Brazilian order, covering the supply of bogies for Bom Sinal DMUs.
China: CNR Changchun and CNR Tangshan have awarded Jilin Midas Aluminium contracts to supply extrusions and fabricated parts worth 167·5m yuan for 350 km/h trainsets.
Czech Republic: D has bought six Bmz inter-city coaches from ÖBB-Personenverkehr for €1·2m, and plans to acquire up to 80.
Europe: Czech manufacturer Legios is to supply 100 Sggmrss twin-unit container flat wagons to GTS Rail of Italy, and 38 Zacen sulphuric acid tanks to On Rail of Germany.
France: Maintenance and construction contractor ETF has ordered two Euro 4000 diesel locos from Vossloh España. They are due to enter service before summer 2014 to haul infrastructure materials for Phase 2 of LGV Est and the Tours – Bordeaux high speed line.
Germany: Hannover transport operator Üstra exercised an option to buy 50 LRVs from Vossloh Kiepe on November 15. The follow-up order is worth €90m and coincides with the delivery of the first of 50 TW 3000 LRVs ordered in 2011.
India: Delhi Metro Rail Corp has ordered 21 metro trainsets from CSR Zhuzhou Electric Locomotive.
Italy: Skoda Transportation has been awarded a KC87m five-year contract to maintain the nine Type 06T trams supplied to Cagliari in 2006-07.
Lithuania: On November 11 Transmashholding and LG signed a memorandum for co-operation in rolling stock development and production.
Poland: Tramwaje Warszawskie has placed a 185·4m złoty order for Pesa to supply 30 short versions of its Jazz low-floor tram in 2015. The 20 m long three-section unidirectional cars will be used on less busy routes which are currently operated using single Type 105N cars.
At a cost of 16m zloty, Koleje lskie is leasing nine EN57 EMUs from PR for one year to replace more expensive locomotives leased from PKP Cargo and coaches from CD.
Russia: Acron-Trans is taking delivery of 400 mineral fertiliser hopper wagons built at United Wagon Co's Tikhvin plant and leased from UWC's Rail1520 business for three years.
Zavod Metallokonstruktsy has obtained certification for series production of Type 19-9858 grain hoppers.
Sudan: CSR Ziyang and CSR Nanjing Puzhen have delivered an 'advanced, mature, economical and reliable' metre-gauge 100 km/h DMU with two motor and four trailer cars.
Turkey: Bosnia's ZFBiH has agreed to lease its nine Talgo trainsets to TCDD. They were ordered in July 2005 and delivered in 2011, but never entered revenue service.
UK: To obtain a favourable price through an add-on to existing orders, Transport for Greater Manchester is to procure 10 more Bombardier M5000 LRVs for the planned £350m Metrolink extension to the Trafford Centre which could open in 2019.
Alstom has been awarded a €12m contract to modernise the interiors of the 56 Pendolino trainsets operated by Virgin Trains, including redesigned kitchens, energy-efficient lighting and 'refreshed' toilets.
Uruguay: CFU has taken delivery of two Mitsubishi road-rail vehicles and 10 Faccs ballast wagons from Loko Trans for use on track renewals between Pintado and Rivera.