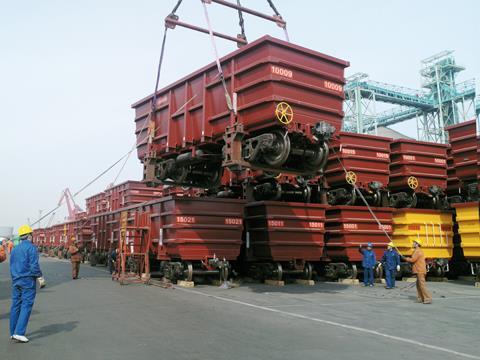 Australia: Adani has ordered 1360 coal hopper from CRRC Yangtze, the Chinese firm's largest export order.
China: Voith is supplying RailPack 400DE power packs with 375 kW engines for use on 30 electro-diesel multiple-units which Changchun Railway Vehicles is building for suburban services running onto non-electrified lines.
Czech Republic: Poland's PR has returned the 10 Class 163 electric locos hired from CD in 2012. The lease was due to run until December 2016, but was cut short after PR reduced its Inter-Regio services. The locos retain equipment for use in Poland, with seven likely to be sold on to CD Cargo.
Gabon: Railserve is delivering six Dual Leaf genset locos with twin Cummins QSX15 engines to Setrag.
Germany: The Land of Baden-Württemberg's train operator SWEG has awarded Bombardier a framework contract to supply EMUs for use on tendered services it may win.
KfW IPEX-Bank is to lend €34m to Bogestra for the purchase of 42 Stadler Variobahn trams.
Indonesia: GE and PT KAI have signed a letter of intent for a multi-year maintenance service agreement covering 50 CC206 diesel locos. vThe Ministry of Transport has ordered a Kirow Multi Tasker 1210 N railway crane with telescopic counterweight and superelevation compensation.
International: Maxwell Technologies is supplying CAF Power & Automation with ultracapacitors for trams for Kaohsiung and Tallinn
Latvia: Pasazieru Vilciens has shortlisted Ural Locomotives, Talgo, Stadler Polska, CAF and Škoda Vagonka for a contract to supply 32 EMUs.
Mozambique: CFM has taken delivery of 29 coaches from China.
Poland: Koleje Mazowiekie has awarded Pesa and ZNTK KM a contact to modernise its EN57 EMU fleet.
Zachodniopomorskie has exercised a 21·4m złoty option for an additional Newag Impuls four-car EMU.
MPK Poznan's Modertrans subsidiary was the only bidder for a contract to supply 20 partially low-floor trams to the city. The deal is worth 136m złoty.
Russia: Federal Passenger Co has ordered a further 34 Type 61-4465 TMH double-deck sleeping cars, financed with a 2·5bn loan from VTB Bank.
Metrowagonmash is to overhaul five four-car metro trainsets for Nizhny Novgorod by December 2017.
Tver Carriage Works is to supply 50 baggage and mail vans to Russian Post.
South Africa: Booyco is to supply HVAC units for the 240 Traxx Africa locos Bombardier is building for Transnet. The design will allow the fresh air inlet to be temporarily closed when traveling through areas where ingress of the outside air is undesirable.
Switzerland: SBB has awarded Waggonbau Niesky a contract to supply 30 Kns flat wagons and 20 Xans74 hopper wagons with electric conveyor belts, and to rebuild 54 hopper wagons.
USA: Brookville Equipment Corp is to modernise six PCC trams dating from 1937 for the El Paso Streetcar Project under an $18·8m contract.