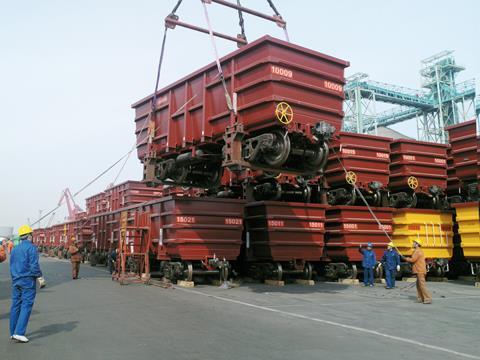 Chile: Metro de Santiago has ordered another four driverless trainsets from CAF, as an add-on to a €160m contract signed in 2013 to supply and maintain 37 five-car trainsets for lines 3 and 6.
China: The first of 11 four-car driverless Innovia APM 300 trainsets being supplied by Bombardier and CRRC Nanjing Puzhen for the Shanghai peoplemover was delivered on January 12. The 6·6 km elevated route from metro Line 8 at Shendu Gonglu to Pujiangzhen is expected to open in December.
CRRC Nanjing Puzhen has won a 1bn yuan contract to supply cars for Changzhou metro Line 1, and a 720m yuan contract to supply rolling stock for Xuzhou metro Line 1.
Mitsubishi Heavy Industries has awarded HollySys subsidiary Concord a US$17·2m contract to supply of HVAC and electrical equipment for the rolling stock to operate the Macau light metro.
Colombia: Medellín metro has ordered two extra trainsets from CAF as a follow-on to a €89m July 2015 contract for 20 three-car units.
Czech Republic: The €20m contract for CRRC Zhuzhou to supply three 160 km/h inter-city EMUs to Leo Express in mid-2018 was signed on December 19 (RG 10.16 p10).
Europe: Captrain Deutschland has ordered six Bombardier Traxx MS locos for use on freight services in Germany, the Netherlands and Belgium from 2018.
Germany: HSL Logistik has placed its first order for new locomotives, awarding Bombardier a contract to supply four Traxx AC3 electric locos in late 2017 and early 2018. Railpool has also delivered a second Bombardier Traxx AC3 Last Mile loco to HSL Logistik under a full service leasing deal. Using financing from HSH Nordbank, a consortium of Toshiba and leasing company Railpool has bought 196 Class 151 and 155 electric locos from DB Cargo, which will be used to form a lease fleet and for spares. DB Cargo said the deal would give it the flexibility to lease capacity at short notice.
India: IR has ordered 22 multi-genset locomotive kits from Bhopal-based Daulat Ram Engineering Services for US$30m. Two prototype WDM-2G Co-Co locos were built at the Diesel Loco Modernisation Works in 2013-14, each with three 600 kW gensets. Siemens is to supply Diesel Locomotive Works with 48 sets of IGBT AC traction equipment worth Rs980m for twin-cab high horsepower diesel locomotives. Another contract worth Rs1·66bn covers the AC-AC traction equipment for freight locos, and a Rs550m deal covers passenger locos. IR has put into service the first Humsafar Express coaches built by the Modern Coach Factory. MCF is expected to supply 10 of the 22-car air-conditioned rakes this year, formed of vehicles derived from the crashworthy LHB design.
Italy: Ingeteam is to supply MerMec with traction equipment for Roger 600 and Roger 800 self-propelled measurement and inspection vehicles.
Latvia: Belkommunmash submitted the best offer to supply eight single-section trams to Daugavpils.
Macedonia: MŽ Transport has awarded CRRC Zhuzhou an €8m contract to supply four electric locos.
Mexico: Ferromex has awarded Alstom a five-year contract to maintain 219 EMD and GE diesel freight locomotives. The deal announced on January 9 includes condition-based and predictive maintenance.
Poland: Koleje lskie has exercised a 48·5m złoty option for three two-car and one three-car Pesa Elf 2 EMUs under a 207m złoty order for 13 units signed in September which included options for up to 10 more.
Russia: St Petersburg Metro has taken delivery of two twin-section battery locos produced by TMH's Oktyabrsky Electric Railway Car Repair Plant.
Slovakia: ZSSK was due to issue a new tender for dual-system EMUs in January, having cancelled in December a previous competition which had attracted bids from Škoda and Stadler. The operator has also called tenders for 35 inter-city coaches for delivery in 2018-19 at an estimated cost of €69·5m.
South Korea: Hyundai Rotem unveiled its latest metro car design at its Changwon plant on January 18. Under a contract awarded by Seoul Metropolitan Rapid Transit Corp in December 2015, the company is supplying 32 cars to operate the Line 5 eastern extension from Sangil-dong to Deokpung, which is scheduled to open in 2018.
Hyundai Rotem has signed a 44bn won deal to supply four six-car metro trainsets for Seoul Line 9, and eight cars to lengthen existing trains from four to six cars.
Switzerland: As part of plans to standardise its shunting and infrastructure fleet, Matterhorn Gotthard Bahn awarded Stadler a SFr23m contract on December 23 for one Gm2/2 diesel-electric loco and two Tea2/2 electric shunters for adhesion work and four HGm2/2 diesel-electric rack locomotives.
UK: Porterbrook Leasing and Northern franchisee Arriva are to develop an electro-diesel multiple-unit by adding a diesel powerpack to former Thameslink EMUs. Detailed design of the Class 319 Flex is being undertaken with Wabtec's Brush subsidiary, and the first units are expected to enter service 'by spring 2018'.