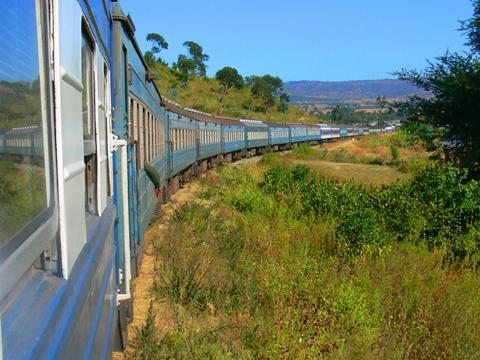 Africa: Tazara has placed a US$9·5m order for 18 passenger coaches and spare parts for delivery from China in late 2015.
Brazil: Vale has taken delivery of the first of 39 coaches ordered for the Carajás Railway from Astra Vagoane Calatori of Romania for US$556m (RG 6.14 p18). The fleet including 21 standard class cars and catering vehicles is due to enter service in early 2015.
China: Hangzhou Metro Group has awarded Nanjing SR Puzhen Rail Transport a 1·1bn yuan contract to supply trainsets for Line 4 in 2014-17.
Hefei Urban Rail Transit Co has awarded Nanjing SR Puzhen Rail Transport a 900m yuan contract to deliver trainsets for Line 1 Phases 1 and 2 in 2015-16.
CSR Zhuzhou is to supply traction equipment for 45 six-car trainsets for Tianjin metro Line 6.
Europe: On May 22 Bombardier said it had 'received firm orders for rolling stock from an undisclosed customer', with a value of €247m.
Strukton Rolling Stock has signed a long-term agreement to supply traction converters and control electronics for Siemens Cityval and Airval light metro vehicles.
Mitsui Rail Capital Europe has ordered a further 20 Siemens Vectron AC locomotives, which will have a top speed of 200 km/h.
Finland: VR Group has called tenders for 46 double-deck coaches for 200 km/h inter-city services, with options for a further 185. These will include sleeping cars which VR is required to order under the terms of the agreement with the Ministry of Transport which gives it a monopoly on long-distance passenger services until 2024 (RG 8.13 p11). VR plans to purchase new diesel locomotives 'in the near future'.
Germany: Veolia Verkehr has awarded DB Fahrzeuginstandhaltung a 'double-digit million' euro contract to undertake the periodic heavy maintenance of 78 Alstom Lint and Bombardier Talent DMUs in 2014-20.
Hungary: CAF is to assemble 37 Urbos trams for Budapest at a MÁV/Bombardier site in Dunakeszi (RG 4.14 p18).
Mozambique: CFM has called tenders for the supply of 70 coaches, and 300 wagons are to be refurbished.
CFM has signed a memorandum of understanding with Visabeira Moçambique and EMEF setting out plans to form a rolling stock maintenance company.
Poland: PGE Górnictwo i Energetyka Konwencjonalna has awarded Newag a contract to modernise three SM42 shunting locos to 6Dg standards.
WKD has selected Newag to supply six 3 kV DC EMUs custom-designed to the operator's profile for 98m zoty. Along with power supply upgrades, this will permit 5 min headways from late 2016.
ZNTK MM is to modernise two EN57 EMUs for ód voivodship at cost of 18m zloty, with an option for two more.
Zachodniopomorskie voivodship is buying 10 EN57 EMUs from PR for 12·3m zoty. They will be modernised and leased back to PR, which is willing to sell because the voivodship does not plan to launch its own operating company.
Philippines: CNR Dalian has won a 540m yuan contract to supply 12 four-car light metro trainsets for Manila metro Line 3 from the end of 2015.
Russia: As part of its plans to develop a network of fast container services, Transgarant has leased 500 container wagons from Brunswick Rail.
The Train Technologies joint venture of Siemens and Sinara has completed the first domestically-produced ES1 Lastochka Desiro RUS EMU at the Ural Locomotives plant in Yekaterinburg. Local content is to be increased from 55% to 80% by 2017.
Singapore: LTA has taken delivery of the first of 13 Bombardier Innovia APM100 cars for the Bukit Panjang LRT peoplemover.
Turkey: Tüvasa is refurbishing 14 coaches for use as TCDD maintenance staff accommodation, with kitchen facilities and onboard generators.
UK: Freightliner has ordered 21 sets of twin-platform Ecofret container wagons to add to its existing fleet of 43 twins from leasing company VTG Rail.
Colas Rail has purchased 10 Class 60 diesel locomotives from DB Schenker Rail UK, which is to overhaul them.
TrainFX has won a contract to supply its Advanced Passenger Information System for modernisation of Porterbrook Leasing's Class 150 DMU fleet.
USA: Greenbrier received orders for 7 000 wagons worth more than $700m in April and May. These included 1700 intermodal wagons, 2500 small cube covered hoppers, 2300 tanks and 400 wagons for the automotive industry.