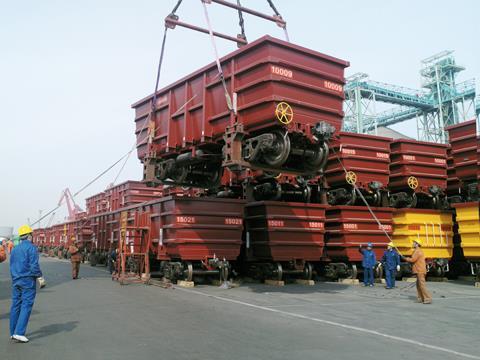 Belarus: TMH's Tver works is to supply BC with 14 Type 61-4447.02 platskartny cars, eight Type 61-440.00 sleeping cars and eight Type 61-445.03 sleeping cars with staff compartments. The order is being financed through BelVEBlizing.
Europe: Traktionssysteme Austria is supplying traction motors for the 30 three-car M7 metro trains which CAF is to build for Amsterdam, and 256 traction motors for 64 Stadler Flirt EMUs ordered by Transdev for use on Hannover S-Bahn services.
Germany: Transdev's NordWestBahn has awarded Stadler a €100m contact to supply 16 four-car 160 km/h Flirt EMUs for use on Regio-S-BahnBremen/Niedersachsen services from December 2022. There will be standard and PRM toilets, wi-fi, a real-time passenger information system and a 'particularly large' multi-purpose area with space for up to 30 bicycles and sockets for charging electric bikes.
Baden-Württemberg's rolling stock procurement body SFBW has placed a €80m order for 18 two-car Alstom Lint 54 DMUs for use on Zollernalbbahn services from December 2020.
Under an agreement with leasing company Alpha Trains and three transport authorities, Siemens is to supply Transdev's TransRegio with six Mireo EMUs to increase capacity on MittelrheinBahn route RB26 Mainz – Köln.
India: Delhi Metro Rail Corp has awarded Bombardier a contract to supply 40 Movia metro cars for use on three of its 1 676 mm gauge lines.
Israel: Using a 2010 framework, ISR has placed a €147m firm order for a further 11 Bombardier Twindexx Vario push-pull driving cars and 63 intermediate coaches. They are to be delivered by December 2021, taking ISR's fleet of Bombardier double-deckers to 586.
Italy: Trenitalia has awarded Icomera a contract to provide wi-fi onboard its ETR1000 and ETR700 fleets.
On June 4 Trenitalia confirmed an €575m order for Hitachi (60%) and Bombardier (40%) to supply 14 more Frecciarossa 1000 high speed trainsets and maintain them for 10 years.
South Korea: Woojin Industrial Systems Co is to supply 200 metro cars for Line 5 and 136 cars for Line 7 of the Seoul metro. Deliveries are due between August 2020 and November 2022.
Malaysia: Railway Assets Corp has invited companies to pre-qualify for a contract to supply diesel-electric locomotives and container wagons; local input will be required.
Norway: Vy has awarded Stadler a contract worth nearly SFr100m for the maintenance in 2020-24 of more than 100 five-car Flirt EMUs.
Poland: PKP Intercity has ordered a further 26 coaches from FPS H Cegielski for 224m złoty, as an option on an order for 55 signed last year.
Industrial Division has ordered five Siemens Vectron locomotives for use by its Cargounit subsidiary on north-south intermodal services and east-west services. Bombardier also bid.
Hyundai Rotem has signed a contract to supply up to 213 trams worth 1·8bn złoty to Warszawa. The base order covers 123 fully low-floor trams to be delivered by the end of 2022, and there are options for up to 90 (RG 3.19 p12).
Russia: RZD has signed a €1·1bn order for Siemens Mobility and the Ural Locomotives joint venture of Siemens and Sinara Group to supply 13 Velaro RUS 3 kV DC 10-car high speed trains for use on the 650 km Moscow – St Petersburg route, and provide 30 years of maintenance.
UWC's TikhvinChemMash is to supply 100 Type 15-6880 methanol tank wagons to chemical company Shchekinoazot by the end of July. Features for handling the hazardous cargo include a foil-clad rupture disc, and valves fitted with a sliding cap and locking device to protect against unauthorised access.
Uralvagonzavod is to supply three three-section trams to Kazan in a 135m rouble contract awarded to Fobos-TS.
The first 8·8 MW three-section 3ES5S electric freight loco produced by TMH's Novocherkassk works is on test.
Slovakia: Budmar is taking delivery of five Vectron multi-system locomotives ordered from Siemens for €20m, and is discussing the purchase of more.
Slovenia: On May 27 SŽ signed a firm contract for Stadler to supply a further 26 multiple-units as an option on an order placed in April 2018. The latest order is worth €151m excluding VAT, and covers 10 four-car Flirt EMUs equipped for 3 kV DC, 15 kV 16·7 Hz and 25 kV 50 Hz operation in Slovenia, Austria and Croatia, and 16 three-car 140 km/h Flirt DMUs.
Switzerland: Mountain railway Rigi Bahnen has awarded Stadler a SFr38m contract to supply six low-floor rack EMUs for entry into service from autumn 2021. Intended to replace Bhe2/4 railcars and trailers, the Bhe4/6 two-car EMUs will have 125 seats arranged 3+2 plus 24 folding seats, with multipurpose spaces for wheelchairs, winter sport equipment or bicycles.
UK: Alstom, Bombardier Transportation with Hitachi, CAF, Siemens Mobility and Talgo have submitted bids for the estimated £2·75bn contract to design, manufacture and maintain 54 trainsets for High Speed 2. Project promoter HS2 Ltd expects to announce the winner in early 2020, with entry into service from 2026.
Three EMD Class 66 locomotives currently used in Sweden are to be leased from Beacon Rail Leasing by GB Railfreight for use in the UK, following upgrades in Göteborg and conversion to UK specifications at Progress Rail's Longport site.
USA: A joint venture of Talgo and Systra has won a contract worth up to $138·9m for the refurbishment of up to 121 Bombardier coaches used on Metrolink commuter services in California. A firm order covers 50, with the remaining 71 subject to funding.
DART has awarded Stadler a $199m contract to supply eight Flirt DMUs for the 42 km Cotton Belt Regional Rail Project in the northern suburbs of Dallas, which is to open by the end of 2022. They will have four passenger cars plus the power module, and meet EPA Tier 4 emissions standards as well as FRA safety requirements. Stadler will also advise depot contractor Urban Engineers on the design of the maintenance facility.
Portland's TriMet has awarded Siemens a €80m contract to undertake the mid-life overhaul of 79 SD660 light rail vehicles with options which would be worth a further €25m.
Uzbekistan: UTY has finalised a €57m order for a further two Talgo 250 trainsets for use from 2021 on Afrosiyob services, along with four coaches to lengthen its original pair of Talgo 250 trainsets. The order is being financed by the Spanish government's FIEM corporate internationalisation fund, as there will be high Spanish input.