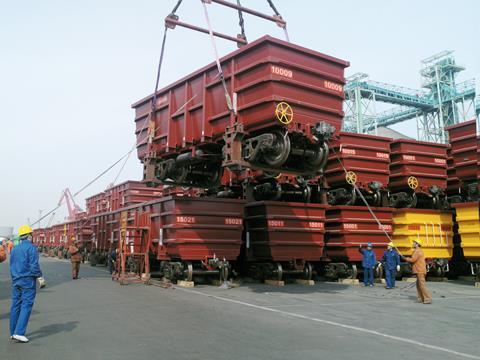 Azerbaijan: ŽOS Vrútky has under­taken heavy overhaul of eight ADY sleeping cars, which have been converted into 160 km/h air-conditioned economy/business class cars with 60 seats. Another seven are to follow by 2018.
China: Shanghai Shentong Metro Group has awarded Shentong Bombardier (Shanghai) Rail Transit Vehicle Maintenance Co two 10-year contracts worth a combined total of 1·1bn yuan for the overhaul of 498 Changchun-built cars used on lines 7 and 9.
CRC's Nanning Railway Bureau has placed a 543m yuan order with Bombardier Sifang (Qingdao) Transportation for five eight-car CRH1A-A Zefiro 250NG high speed trainsets to support the ongoing integration of Guangxi's regional high speed routes into the national PDL network.
Czech Republic: CD Cargo has placed a KC300m order for a further three Class 383 Siemens Vectron MS electric locomotives to be delivered by early 2018, as an option on a contract for five delivered last year. D Cargo plans to deploy them on intermodal trains from North Sea ports.
The CD board has approved a 10-year agreement to lease 10 Siemens Vectron 200 km/h multi-system locos from ELL under a €48m deal including maintenance. D is to deploy them on EuroCity services on the Praha – Berlin – Hamburg route from December, as the planned Škoda Class 380 locomotives have not obtained all the necessary German authorisations.
IDS Cargo has bought CZ Loko's demonstrator EffiLiner 3000, rebuilt from an SNCB Class 12 electric locomotive.
Europe: RIVE Rail Leasing has acquired 32 Vossloh diesel shunting locos from Mitsui Rail Capital Europe, in a transaction co-arranged by Paribus Capital and Paris-based RIVE Private Investment. Senior debt was structured and provided by KfW IPEX-Bank. Millet has taken over asset management for six of the locos, and Northrail 26.
Clayton Equipment has been awarded a contract by Balfour Beatty to supply 24 wagon-mounted installation platforms to support the construction of the Elec­Link high-voltage connector through the Channel Tunnel.
France: Provence-Alpes-Côte d'Azur region has acquired a further two 1000 mm gauge DMUs from SFM of Spain for €925000. Six CAF Class 61 DMUs had previously been acquired for €31m to operate on the Nice – Digne route (RG 3.16 p18).
Germany: Abellio has placed a firm order for a further two three-car and three five-car Bombardier Talent 2 EMUs for use on Neckartal services from June 2019. Procurement is being carried out using the 'Baden-Württemberg model', whereby the vehicles are sold to the Land and leased back.
DB Regio has signed a €150m contract for 25 four-car Alstom Coradia Continental EMUs within a 2012 framework covering up to 400 units. The latest batch are to be used on SaarRB Lot 1 services from December 2019.
Israel: ISR has exercised a €56m option for Bombardier to supply a further 33 Twindexx Vario double-deck push-pull coaches February 2019. They will have improved passenger information and air-conditioning systems.
Italy: Serfer Servizi Ferroviari has ordered five CZ Loko EffiShunter 1000 locomotives for delivery from February, with an option for five more.
Kazakhstan: Belkommunmash has won a 2·7bn tenge contract to supply up to 25 trams to Pavlodar.
Poland: As part of the handover of first of three Pesa Link DMUs to PolRegio on April 27, the operator announced that it will exercise a 25·1m złoty option for another two units.
Russia: United Wagon's Tikhvin plant has begun production of Type 13-6903 container wagons with an increased capacity of 74·5 tonnes. They have a service life of 32 years with overhaul every 800000 km or eight years.
TMH's Demikhovsky plant has been awarded a 1·6bn rouble eight-month contract to refurbish 100 Type 81-717/714 Moscow metro cars. Bodyshells, bogies and traction systems will be retained, but there will be new doors, floors and seats, refurbished cabs and new interior fittings to improve the appearance and resistance to vandalism.
Federal Freight Co has signed a strategic co-operation agreement to lease around 20% of TransFin-M's fleet of open covered, flat and tank wagons. If the co-operation is successful FGK may lease further vehicles.
Federal Passenger Co has ordered a further 106 double-deck coaches from TMH Tver for 24bn roubles.
Lokotrans has awarded TikhvinSpetsMash a contract to supply 40 Type 11-6874 high-capacity covered vans with a payload of 73 tonnes.
RM Rail has obtained certification for two flat wagon types designed for heavy loads and a service life of 32 years. The Type 13-1258 wagon is designed for transporting wheeled and heavy crawler vehicles, steel structures, containers and tank containers. The Type 13-1258-01 is designed for containers up to 36 tonnes.
Serbia: Srbija Kargo has called tenders for a contract to refurbish 31 Class 461 electric locomotives, financed by EBRD as part of its support for the development of pan-European Corridor X.
Switzerland: A SFr300m mid-life refurbishment of 341 IC2000 double-deck cars which is to be undertaken at SBB's Olten works in 2019-24 (p63) will include the fitting of power sockets and more efficient lighting, as well as accessibility improvements.
Ukraine: Following trials with Ukrainian Railways, KVSZ has obtained certification for its 68-7115 and 68-7115-01 bogies which are designed for 160 km/h passenger trains with disc brakes and springs or air suspension.
UK: London Underground has awarded EKE-Electronics a €20m contract to replace the data transmission system on the Central Line train fleet.
Uruguay: AFE has received a bid to supply 200 wagons from Mercitalia, of Italy. These would include hoppers and flat wagons for the transport of wood pulp, grain and ballast.
USA: CRRC Sifang America has awarded Liebherr-Transportation Systems a contract to develop and supply 400 hydraulic level control systems for the Series 7000 metro cars that it is to build for Chicago Transit Authority with an option for up to 446 more.