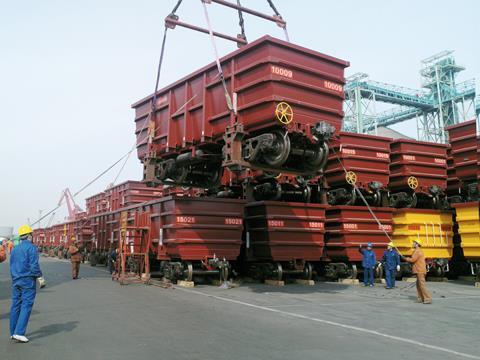 Australia: On January 15 Queensland's Department of Transport and the Bombardier NGR Consortium signed the A$4·4bn New Generation Rollingstock PPP 32-year contract covering the supply and maintenance of 75 six-car EMUs (RG 1.14 p14). They are to be manufactured at Savli in India for delivery over five years, with testing of the first from late 2015.
Austria: Linz Linien has placed a €19m order for six more Bombardier Cityrunner low-floor trams to be delivered from mid-2015.
Brazil: Salvador metro concessionaire CCR has ordered 49 four-car trainsets from Hyundai Rotem and Iesa. They are to be assembled in Iesa's Araraquara plant, with some components manufactured in South Korea.
Canada: Toronto transport authority Metrolinx announced a C$481m order for further 65 Bombardier BiLevel coaches on January 24, as 'an important step toward introducing two-way, all-day service on all seven GO rail lines.' Deliveries are scheduled for June 2016 to July 2017, and there are two options for 75 more coaches.
China: Hong Kong's MTR Corp has awarded CNR Changchun a HK$1·14bn contract to supply 14 eight-car trainsets by 2017 for the East West Corridor section of the Shatin – Central Link. A consortium of Itochu, Kinki Sharyo and Kawasaki was awarded a HK$1·18bn contract to supply 36 cars and modify and reconfigure 348 from the existing West Rail, East Rail and Ma On Shan lines.
Czech Republic: RegioJet has acquired a further 45 coaches from ÖBB. These will be modernised by KOS Krnov and Pars Nova Sumperk before being used to lengthen the open-access operator's trains to 10 cars.
Germany: Siemens has announced that its Vectron is the first electric locomotive family to be certified in accordance with the locomotives & passenger rolling stock subsystem TSI, by notified body Eisenbahn-Cert.
DB has issued an OJEU notice confirming its order for an additional Class 407 Siemens Velaro D multi-system high speed trainset, taking the total to 17 (p24).
Halle is to sell two Duewag low-floor trams to Brandenburg operator VBBr for €1·6m. They are 20 years old and non-standard in Halle, but identical to vehicles used in Brandenburg.
International: On February 18 Bombardier announced firm orders from 'an undisclosed customer' for unspecified vehicles worth €284m.
Kazakhstan: Ukrainian manufacturer KVSZ is building a prototype 1520 mm gauge regional DMU designed by Polish partner EC Engineering which will be supplied to KTZ.
Italy: Compagnia Ferroviaria Italiana has ordered two Siemens Vectron DC locos with last-mile engines.
Lithuania: LG has ordered a further 20 Transmashholding TEM TMH shunters. Final assembly is to be undertaken at LG's Vilnius depot.
Mozambique: Beacon Hill Resources has taken delivery of five 2·2 MW RL30SCC-3 locos supplied by RRL Grindrod with EMD engines remanufactured by NREC, and 90 Transnet Engineering coal wagons. These are leased from Thelo and will operate on the Sena line.
Netherlands: Rotterdam's RET has exercised a €66m option for a further 16 Bombardier Flexity Swift LRVs. They are to be delivered in 2016 for use on the Schiedam – Hoek van Holland Strand route which is to be converted from heavy rail operation.
Poland: Laude Smart Intermodal has awarded FW Gniewczyna a contract to supply 80 container wagons suitable for 120 km/h by March 2015.
Koleje Mazowieckie has awarded ZNTK MM a 210m złoty contract to modernise 27 EN57 EMUs.
Tramwaje Szczecinskie has placed a 4·5m złoty order for a Modertrans Moderus Beta tram, which is to be assembled locally.
MPK ód is rebuilding 24 type 805Na trams at a cost of 0·95m złoty each. New bodies are being fitted, along with Woltan traction equipment.
Slovakia: ZSSK has awarded ZOS Vrutky a €17·9m contract to supply 10 coaches for 160 km/h EC/IC services.
South Africa: Booyco is to supply air-conditioning units for upgrading Transnet's Class 34 locos, and Strukton Rolling Stock is supplying static convertors for Class 18 E locos.
Sudan: President Omar al-Bashir attended the inauguration of two six-car CSR Ziyang DMUs on the Khartoum – Atbara route on January 20.
Sweden: Tågkompaniet has awarded EuroMaint a contract to maintain the six Regina X50 EMUs used on X-Trafik services until 2024.
UK: On February 7 GB Railfreight announced an order for a further 13 EMD Class 66 diesel locos to be delivered in late 2014, saying it placed the order before the January 2015 implementation of EU regulations which 'could impact the ability to obtain compliant and affordable' locos.
TRB is to supply interior partition walls for Hitachi's Class 800/801 inter-city trainsets. Saft is to supply batteries to provide up to 3 h of back-up power for on-board systems, while Treadmaster is to supply fire retardant flooring.
USA: Florida East Coast Railway announced an order for 24 GE Transportation ES44C4 Evolution Series diesel locomotives on January 30.