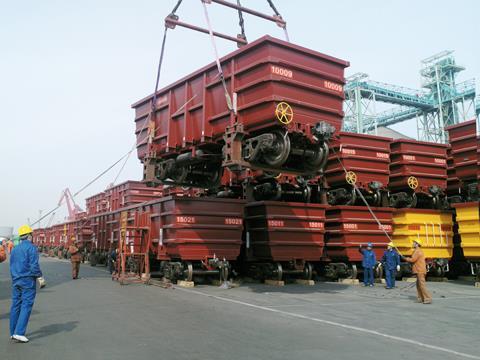 China: Bus, car and battery manufacturer BYD unveiled its first monorail at a 4·4 km test track in Shenzhen on October 13. The 80 km/h SkyRail aimed at smaller cities and tourist attractions offers a capacity of up to 30000 passengers/h per direction. The city of Shantou is the first customer.
Oleo has won a 'significant deal' to supply couplers to a Chinese metro.
France: Lyon's CFTA Rhônexpress has awarded Liebherr Transportation Systems a contract to enhance the performance and reliability of third-party air-conditioning systems on its Stadler Tango LRVs.
La Banque Postale has agreed to lend STIF €225m to support replacement of SNCF's Paris suburban fleet. This comprises €175m of bank finance and €50m of private placement. vDuro Dakovi Specijalna Vozila has signed a €7·2m contract to supply additional Zacns calcium carbonate tank wagons to a French customer during the first half of 2017.
Germany: Abellio has agreed eight-year framework contracts with Alstom, Bombardier, Siemens and Stadler for the supply of up to 150 single-deck regional EMUs. Firm orders are subject to Abellio winning operating contracts.
Iran: On October 3 Siemens signed a contract to support the modernisation of the rail network and supply Mapna with components for the assembly of 50 Safir ER24PC (IranRunner) diesel-electric locomotives at its factory in Karaj.
Israel: Alstom, Bombardier, Hitachi Rail Italy, Siemens, Škoda Transportation and Stadler submitted final offers for a contract to supply 330 double-deck EMUs cars to ISR by the September 28 deadline.
ISR has awarded Unilokomotive a €0·6m contract to supply road-rail shunting vehicles.
Japan: Yurikamome Inc has ordered six Mitsubishi Heavy Industries eight-car trainsets for the Yurikamome Line automated guideway transit system in Tokyo. Deliveries are scheduled for June 2018 to June 2020.
Lithuania: On October 6 LG put into service on the Vilnius – Kaunas route the first of three Class 575 three-car double-deck EMUs ordered from Škoda Transportation for €27·3m in December 2014. They are primarily intended for use between Vilnius and Minsk once 25 kV 50 Hz electrification has been completed.
Mexico: Baja California Railroad has taken delivery of three 2500 hp EMD GP39-3 diesel locomotives.
Poland: Przewozy Regionalne has signed a 629m zoty credit line with a consortium of banks BGK, PKO BP and BZ WBK to finance the modernisation of 36 EMUs and the purchase of 10 new EMUs and three new DMUs.
FPS is to modernise 22 PKP IC Type 144A coaches for 77·8m zloty.
Russia: Kazan's Metroelektrotrans has taken delivery of 10 UKVZ partly low-floor KTM-23 trams, with two more expected by the end of the year.
UKVZ is to supply 10 unidirectional KTM-33 100% low-floor trams to Samara under a 999·8m rouble five-year leasing deal. The estimated cost of the rolling stock is 650m roubles, with the remainder being leasing fees.
As part of an import substitution programme, United Wagon Co says it is the first Russian company to begin bulk manufacture of high tensile strength austempered ductile iron components for wagon bogies. UWC has the capacity to equip 30 000 wagons/year.
United Wagon has begun series production of fertiliser hopper wagons with a capacity of 120 m3 or 76 tonnes.
Slovakia: ZSSK has awarded ŽOS Zvolen a €11·1m contract to rebuild Class 810/011 railcars and trailers into eight Class 813/913 permanently coupled two-car regional DMUs.
South Africa: Bombardier' CRRC E-Loco Supply and the Alstom-led Egoli Rail consortium have prequalified for a contract to supply 12 EMUs to Gautrain.
Spain: Renfe has refurbished 18 Class 447 EMUs for regional services in Catalunya at a cost of €225m. This included adding a centre car with level boarding, PRM toilet and wheelchair space.
Sri Lanka: The Ministry of Transport has awarded India's Texmaco Rail & Engineering Ltd contracts to supply 20 container wagons for US$1·7m and 30 fuel tank wagons for US$2·57m.
Sweden: Nordic Investment Bank has signed a 20-year SKr695m loan with local authority procurement organisation AB Transitio to support the SKr3·5bn acquisition of 33 Stadler Kiss EMUs for Mälardalen services.
Tunisia: Hyundai Rotem has been selected for a 203bn won contract to supply 112 EMU cars to Sncft from 2018 for use on Tunis suburban services. Alstom, CAF and Stadler had also bid for the contract.
UK: Arriva CrossCountry has awarded Bombardier a £232m three-year extension to its current contract to maintain 57 Voyager and Super Voyager diesel trainsets at the supplier's Central Rivers site, and to convert two Super Voyager cars previously operated by Virgin Trains to create an 58th unit.
A two-car Class 156 DMU which had been damaged by floodwater has returned to service with ScotRail after being bought and repaired by Brodie Engineering, which has set up its own leasing business with funding from Clydesdale Bank.
USA: Southern California Regional Rail Authority has awarded Bombardier a $23m contract to maintain the Metrolink commuter locomotive and coach fleet for a further eight years from January 1 2017, with an option for a single four-year extension.