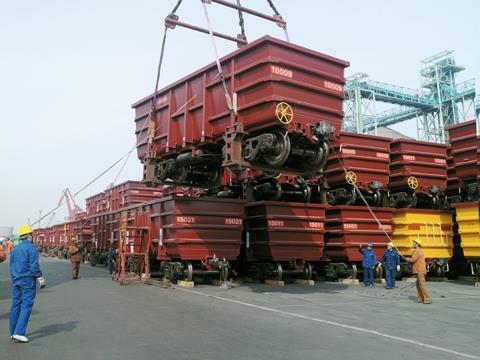 Bangladesh: Hyundai Rotem announced on October 11 that it had won a US$239m order to supply 70 diesel-electric 110 km/h locomotives for BR's metre-gauge Dhaka – Chittagong route. Production at Changwon is due to begin in 2020 for delivery by 2023.
Canada: VIA Rail has awarded Rail GD a C$16·4m contract to refurbish four 1950s dining cars for use on the Canadian trans-continental service.
China: In September CRC awarded the Bombardier Sifang (Qingdao) Transportation JV a 2·2bn yuan contract to supply five eight-car and five 16-car 350 km/h CR400AF high speed trainsets within three months. The CRH400AF was developed by CRRC Qingdao Sifang as part of the China Standard EMU programme.
Czech Republic: Škoda Transportation is to supply up to 22 ForCity Smart trams to operate in its home city of Plzeň.
ČD is to lease a further 15 Siemens Vectron MS electric locos from European Locomotive Leasing for routes including Praha – Linz, as it is not satisfied with the availability of Class 380 (Škoda 109E) locos, and to replace Class 362 on domestic routes. The KC1·1bn contract runs for five years from mid-2019.
Wagony Świdnica is to supply ČD Cargo with 500 Eanos wagons for coal, iron ore and timber, and Tatravagónka Poprad is to supply 80 Zacns 88 m3 tank wagons with an option for 20 more.
ČD Cargo has cancelled a tender announced in January for the supply of five high-power diesel locomotives for cross-border operation; the sole bid exceeded the budget. A new tender has been called for up to 10 locomotives with a lower rating of at least 890 kW.
Europe: Metrans signed a contract at InnoTrans for the lease of six Bombardier Traxx F140 AC3DE electric locos from Akiem. In September the operator took delivery of the last of 40 Traxx F140 MS locos, and it plans to lease rather than buy locos in the future
TMH's maintenance business LocoTech and ÖBB Technische Services have agreed to co-operate to modernise, maintain and lease locos in Austria, Hungary and southeast Europe. Loco-Tech will also develop a concept for the modernisation of electric locos.
France: SNCF has leased three Bombardier Traxx AC1 locos from MRCE to haul the French leg of Russian Railways' Paris – Moscow passenger service.
The first Citadis X05 tram for Caen arrived at the Fleury-sur-Orne depot on October 4, having left Alstom's La Rochelle factory two days earlier.
Germany: Erfurt transport authority EVAG has ordered 14 Tramlink trams from Stadler Pankow and Stadler Valencia. The first is due to enter service in 2020.
Hungary: Liebherr Transportation Systems is to supply 70 underfloor air-conditioning units for use on ARmz and Bbdpmz IC+ coaches being produced by MÁV-Start's Szolnok workshop.
Magyar Vasúti Áruszállító has taken delivery of a CZ Loko EffiShunter 1600 six-axle loco.
International: Teleste is to supply CAF with passenger information and ethernet systems for 30 metro trainsets being built for Manila, and PIS, CCTV and ethernet equipment for 12 trainsets for Napoli.
Italy: Rail Traction Co has ordered two CZ Loko Effishunter 1000 locos to be delivered in the second half of 2019, with an option for two more.
South Korea: Hyundai Rotem expects to begin testing of the first of 21 E320 high speed EMUs for Korail by the end of the year, ahead of delivery in 2019-21. Two of the sets will be formed of eight cars and will have a maximum speed of 320 km/h, and the other 19 will be six-car sets operating at up to 250 km/h.
Qatar: Qatar Railways Co has awarded Kinki Sharyo a contract to supply a further 35 three-car driverless trainsets for the Doha metro project.
Russia: Ural Mining Metallurgical Co has awarded United Wagon Co's TikhvinChemMash plant contracts to supply 73 Type 15-9545 sulphuric acid tank wagons by the end of January.
United Wagon Co and Uralchem-Trans are to develop a service centre at Murashi on RZD's Gorky Railway which would repair and maintain wagons from UWC's Tikhvin plant. Uralchem-Trans is now only buying high-capacity wagons, and it intends to work with UWC to increase the share of modern designs in its fleet from 14% to 25% by 2021.
has received Eurasian Customs Union certification for its Type 33-5170 side dump wagon, 13-6851-06 flat wagon for palletised cargo, wheeled and tracked vehicles, timber and heavy containers, TM2-3 transporter for radioactive waste and TMB-2 road-rail vehicle.
On October 4 Central Suburban Passenger Co awarded TMH's Tver plant an 11bn rouble contract to supply a further 15 seven-car Ivolga EMUs by the end of 2019 for use on the initial sections of the Moscow Central Diameter network.
Slovakia: Stadler is to supply five 1·5 kV DC EMUs and an electro-diesel locomotive for the metre-gauge Tatra Electric Railway, which has a section of rack operation. Delivery is scheduled for 2022. Each EMU will have 91 seats and two wheelchair spaces, wi-fi, air-conditioning, a modern passenger information system and passenger counting facilities. The locomotive will meet Stage IIIB emissions standards and can be equipped with a snow blower.
On October 2 the European Commission approved co-funding of €135m through the EU's Integrated Operational Programme 2014–20 to support ZSSK's March order for Škoda Transportation and ŽOS Trnava to supply 25 EMUs for €160m.
Turkey: On September 18 Korfez Ulastirma signed an order for Tülomsaş to supply five GE Transportation PowerHaul diesel locomotives. The transport business of oil refiner Tüpraş is the first private operator to purchase new locos since the government began issuing licenses to use the network in 2017. It currently leases five PowerHaul locomotives previously supplied to TCDD, and also owns 549 wagons.
UK: Great Northern carried passengers on one of its 25 Siemens Desiro City Class 717 EMUs for the first time on September 28. Phased entry of the Rock Rail-owned EMUs into regular service on commuter routes from London Moorgate is scheduled to start in late autumn and continue until spring next year.
Caledonian Sleeper has confirmed that the introduction of its new CAF rolling stock has been delayed from autumn 2018 to spring 2019. The operator said the approvals process was 'time-consuming and complex' and 'there is still work to be done before the new carriages can be brought into service'.
USA: New York City Transit has appointed the C2K Partners joint venture of LTK Engineering Services and Jacobs Engineering Group to provide technical and programme management support services for the supply of 535 R211 metro cars by Kawasaki Rail Car, with options for up to 1 077 more
Iowa Interstate Railroad has ordered three GE Transportation Evolution Series diesel locomotives, which are to be supplied in early 2020 and will be used to haul grain, ethanol, metals and other freight between Chicago and Omaha.