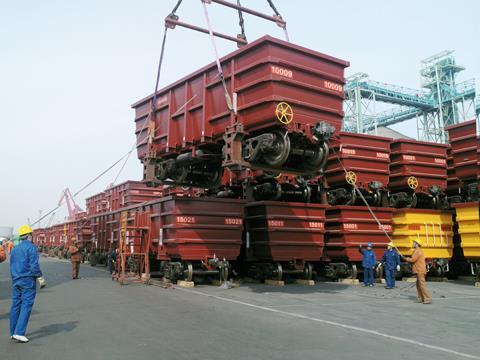 Australia: Mineral Resources (Equipment) Pty has awarded CSR Yangtze a contract to supply wagons worth 190m yuan.
Chile: State railway EFE has ordered a further 12 Alstom X'Trapolis two-car EMUs as an option within a €54m contract for 12 announced in 2012. They are due to enter service on the Santiago – Rancagua route in 2014.
Alongside a track renewals programme costing 4bn pesos, EFE has refurbished three diesel railcars for its 1000 mm gauge Talca – Constitución route. EFE says that this is the largest investment in 40 years on the 88 km branch which carries more than 80000 passengers/year.
China: CNR Tangshan is to supply 168 Type B cars for Fuzhou metro Line 1 between July 2014 and March 2015.
China Railway Investment Corp has awarded CSR Yangtze, CSR Erqi, CSR Meishan and CSR Shijiazhuang wagon orders totalling 4·15bn yuan.
Czech Republic: CD has decided not to exercise a €110m option for a further eight Siemens Viaggio Comfort push-pull trainsets.
Freight operator AWT has ordered three Siemens ES64U4 locomotives equipped for the Czech Republic, Germany, Austria and Hungary.
Europe: Siemens has selected Nomad Digital to supply wi-fi equipment for the 10 Velaro e320 trainsets being built for Eurostar.
Belgian company Multitel has tested Hitachi's onboard ETCS technology for Level 1 and 2 compliance.
France: Alstom has opened a Régiolis multiple-unit after-sales service centre within SNCF's Metz rolling stock workshops, to support 10 electro-diesel multiple-units due to enter service in 2014. Four Alstom staff will initially train drivers, and then provide maintenance services during the warranty period.
Germany: DB Regio has ordered 20 two-car and 16 three-car Pesa Link 140 km/h DMUs for use on the Sauerland network, the first firm order under a 2012 framework for up to 470.
Leasing company Northrail has ordered three Vossloh G6 shunting locos.
Niederbarnimer Eisenbahn has placed a €27m order for seven two-car and two three-car Pesa Link DMUs for use on Netz Ostbrandenburg services from December 2014.
DB has placed a €216m firm order for a further three four-car and 15 six-car Bombardier Twindexx Vario double-deck EMUs, to enter traffic from December 2016 on services from– Treuchtlingen to Augsburg, Nürnberg Ingolstadt and München.
India: IR has retrofitted 12 diesel locomotives with 25 hp auxiliary engines which can power compressors and charge the batteries to enable the main engine to be shut down if the loco is idling for more than 10 min. Annual savings are expected to exceed Rs2m per loco.
Israel: ISR has awarded DB Fahrzeuginstandhaltung a contract to undertake accident repairs to 17 coaches; four will be taken to DB's Wittenberge workshops in Germany.
Macedonia: Using EBRD funding, Macedonian Railways Transport has called tenders for the supply of four diesel and two electric multiple-units.
Malaysia: On September 13 the Ministry of Transport signed a contract for CSR Zhuzhou to supply 10 six-car EMUs within 33 months. Designed for inter-city services at up to 160 km/h, they units will have onboard internet access, a buffet, accessible toilets and CCTV.
Mozambique: The first 1 067 mm gauge flat wagons to be built by CNR Taiyuan were delivered last month.
New Zealand: Last month Kiwi-Rail ordered a further eight DL diesel locos from CNR Dalian, taking its total fleet to 48, and awarded the supplier a support services contract.
Nigeria: Nigerian Railway Corp is to procure two DMUs for an urban commuter service.
Poland: KS has awarded Newag a 9·8m złoty contract to modernise an EN57 EMU with AC traction equipment and a new interior.
On September 25 Pesa signed a contract to supply five Jazz Duo low-floor trams to ZKM Gdansk.
PKP Intercity is to lease four Class 754 diesel locomotives from CD.
Russia: At Expo 1520 Metrowagonmash displayed the prototype DP-M DMU developed jointly with Stadler. As with the Swiss firm's GTW family, the traction equipment is mounted in a separate section between the passenger vehicles, however the Russian GTW+ version is larger with four rather than two axles on the powered section.
Metrowagonmash is to supply 15 metro cars to Nizhny Novgorod.
Slovakia: With EU funding, ZSSK has awarded ZOS Vrútky a €77·9m contract to supply 20 three-car DMUs for use around Bratislava and Košice from 2014-15.
Turkey: TCDD has leased eight Class 441 electric locos from Bosnia's ŽFBiH, and plans to lease six more.
UK: On September 3 GB Railfreight announced an order for a further eight EMD Class 66 locomotives to be delivered in August 2014.