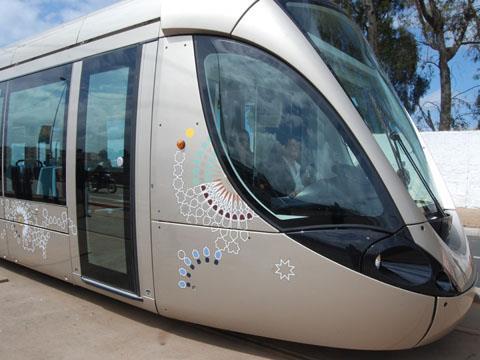 MOROCCO: The first Citadis low-floor tram for the Rabat-Salé light rail network started trial running on a 2 km test track in the Hay Karima district of Salé on March 30.

Alstom signed a €90m agreement in May 2008 to supply 22 pairs of Citadis trams to work the Société du Tramway de Rabat-Salé's new two-line network. The launch of dynamic tests followed the arrival of the first tram on March 18 and electrification of an initial section of the line along Mohamed V Avenue between Lala Amina and Hay Essalam. The objective is to test the interface between the tram, the catenary and the track as well as verifying traction, braking and speed performance.

The second pair is due to arrive in May and further cars will follow at a rate of two pairs per month. The contract calls for final delivery during the first quarter of 2011. Testing will be extended to the entire network as construction is completed and will eventually involve all 44 Citadis trams.

The trams will operate in pairs, providing 118 seats and total capacity for around 500 passengers. Passenger information will be displayed in Arabic and French. The interior design and exterior livery has been inspired by Moroccan culture and Rabat's artistic heritage, using motifs based on local Zellij tile work.

Commercial operation is expected to start in December. Anticipated ridership on the 20 km network with 31 stops is 180 000 passengers per day.