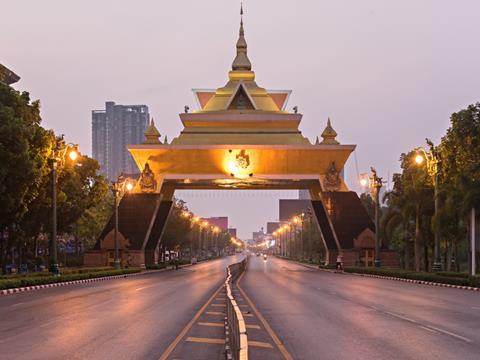 THAILAND: The Prime Minister's Office has granted approval for a proposed light rail route to be developed in Khon Kaen. Construction is expected to begin in the final quarter of 2019.
The 22·6 km route would run on the median strip of the north-south main road that bisects the city. There would be 18 stops, including one in the grounds of Khon Kaen University.
The project is being promoted by Khon Kaen Transit System Co Ltd, which was established in March 2017 with 5m baht in capital provided by the five municipalities in Khon Kaen. The organisation is modelled on Krungthep Thanakom Co, which is the Bangkok Metropolitan Administration's investment arm that owns and operates the capital's bus rapid transit network.
KKTS was established by the Khon Kaen Think Tank, which comprises 20 local business owners, politicians and academics. None of these members belong to a political party, in order to ensure that the light rail scheme remains politically neutral.
Private financing
Cabinet approval for the starter line was granted in October 2017, and KKTS is currently in the process of leasing land from the State Railway of Thailand and the Ministry of Agriculture to add to the land already acquired from the five municipalities.
Light rail was selected in preference to a metro as it is cheaper to build. The cost is estimated at 15bn baht, with the five municipalities contributing a total of 4·5bn baht. The remainder would be borrowed from overseas investment funds.
Suradech Taweesaengsakulthai, CEO of CHO Thavee and a founding member of KKTT told Metro Report International that KKTS is in negotiations with three potential investors. One of these is Chinese, one is European and the other is a group of European and US investors.
KKTS envisages two years of construction followed by two years of operations, before the company is listed on the stock exchange. This would give the initial investors an option to sell their stakes at this point should they wish to do so. Suradech estimates the internal rate of return at 2% in the initial years of operations, with a further 11% attainable from proceeds from retail space and advertising.
If light rail operations prove profitable, the municipalities would earn money that could be reinvested in other urban projects. The line would need to carry 15 000 passengers a day to break even, estimates Sumet Ongkittikul of the Thailand Development Research Institute think tank.
A model for other cities
The Khon Kaen model is being studied by 14 other provincial cities in Thailand, and KKTT believes that it could serve as a template for an urban public transport projects elsewhere. While Bangkok has an extensive metro network, no urban rail exists in other cities in Thailand.