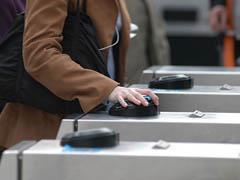 UK: Transport for London is upgrading its smart card reader software to enable passengers to pay for travel using contactless credit and debit cards. Underground, Docklands Light Railway, tram, London Overground and bus services will be covered by the end of 2012, and discussions are underway with train operating companies.
Charging accounts directly will eliminate the need for passengers arriving in the capital to acquire TfL's Oyster smart card or top-up credit, and it is intended that the contactless technology will eventually work with cards issued overseas.
Announcing the plan on February 24, TfL said there are now more than 12 million contactless credit and debit cards in circulation in the UK which can be used for low-value payments.
An informal group of transport authorities including Paris, New York, Boston, Chicago, Washington, Philadelphia, Atlanta, Salt Lake City and Sydney has been researching contactless travel payment, and TfL has worked with the banking industry to adapt the system for ticketing. TfL says passengers will never be asked to enter a PIN at busy gate lines, and while ticket inspectors' hand-held card readers will be able to verify that a card has been touched in, they will not be able to access other bank details.
Bank cards will only be used for 'pay as you go' travel, with Oyster continuing to be provided for season tickets and for people who choose to use it. However, TfL expects that the number of Oyster cards issued will be reduced, along with processing costs.
Passenger watchdog London TravelWatch welcomed the announcement, but said it was 'very disappointing that it will not necessarily be available on rail services', given the 'confusion caused for passengers' which occurred in the period before Oyster was accepted on National Rail services.
'Contactless payment offers enormous potential benefits to passengers in London, but we still have to do a lot of work to understand how the scheme will operate in detail, and to assess the costs', said a spokesman for the Association of Train Operating Companies.
'We are working in very close partnership with TfL on these issues and are keen to get the scheme up and running as soon as possible.'