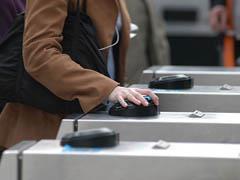 TICKETING: The Pearl consortium has been selected as preferred bidder to roll out a A$1·2bn smart card ticketing system in Sydney, New South Wales Minister for Transport & Roads David Campbell announced on April 11.
Cubic Transportation Systems, Downer EDI and Commonwealth Bank comprise Pearl, and will deliver a system based on 'the proven technology of the Oyster card', supplied to London by the TranSys consortium of which Cubic is a member. This will cover trains, buses, and ferries across Greater Sydney, including Newcastle and the Hunter region, Wollongong, the Illawarra and the Blue Mountains. Passengers will top-up their ticketing accounts online or at shops, or link their smart cards to bank accounts or credit cards.
Scheidt & Bachmann had also been shortlisted for the contract, which is now being finalised. Roll out will start by the end of 2012.
Meanwhile, Transport for London confirmed on April 12 that it had purchased the Oyster brand from the TranSys consortium for £1m.
TfL announced in August 2008 that it planned to terminate the 'Prestige' Private Finance Initiative contract with the consortium of Cubic Systems, EDS (part of the HP group), Fujitsu Services and WS Atkins from August 16 this year, replacing it with a five-year contract with Cubic Transportation Systems and HP Enterprise Services UK.
TfL has repaid £101m of PFI debt early, saving around £4m in interest and giving it ownership of the ticketing equipment and back office systems. TranSys retains advertising rights on gate lines and ticketing media until March 2015.
'Oyster has the potential to be used for so much more than simply getting around the capital', said Kulveer Ranger, the Mayor of London's transport advisor, 'and the technology is there to make it even more convenient for Londoners to use by integrating it into mobile phones or bank cards.'