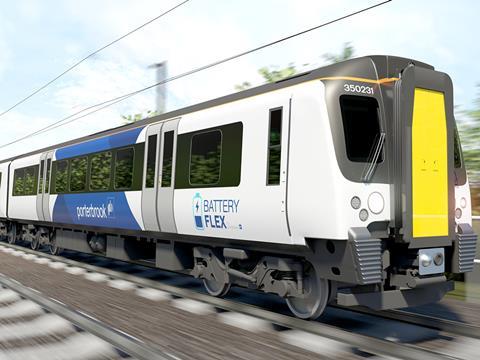 UK: An engineering assessment has found that there is a 'positive case' for fitting Siemens Desiro Class 350/2 electric multiple-units with batteries to enable off-wire operation, Porterbrook Leasing said on October 15. The company is holding discussions with battery chemistry specialists with a view to producing a demonstrator unit.
The 25 kV 50 Hz EMUs entered service from late 2008 and are currently operated by London Northwestern Railway, but are scheduled to be replaced by new Bombardier Transportation Aventra EMUs.
Porterbrook has modelled the energy demands and performance of the proposed BatteryFLEX units. On routes such as the non-electrified Windermere branch, the units would remove the need for diesel traction while retaining the ability to use 25 kV 50 Hz overhead on the main line. Porterbrook found that on the West Coast Main Line the BatteryFLEX's performance could 'match or outperform' existing rolling stock, particularly on local services.
'Porterbrook has an unrivalled reputation for innovation', said CEO Mary Grant. 'The addition of the BatteryFLEX to our rolling stock portfolio will help train operators further reduce their carbon footprint and emissions, whilst maintaining performance and delivery. We believe this green technology could have a huge impact across the country, delivering cleaner travel on our rail network, including on picturesque routes like the Lakes line.'