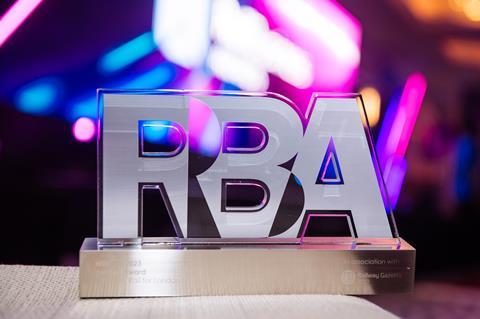 UK: Rail freight plays a critical role in supporting economic activity, in many different sectors, and offers huge potential for transport decarbonisation through modal shift. The Rail Business Awards has long sought to acknowledge and celebrate excellence in rail freight, as well as related initiatives across the wider logistics community.
Recent winners of the award for Rail Freight & Logistics Excellence have recognised the introduction of new freight flows by rail, the development of terminal facilities and innovative rolling stock, and the provision of support services, as well as strong all-round commercial performance. The 2023 award was won by Eversholt Rail for its Swift Express Freight initiative, adapting surplus Class 321 EMUs to carry parcels and express consignments at passenger train speeds. This cost-effective alternative to road haulage looks set to expand in the coming years.
The 26th Rail Business Awards will provide another opportunity to recognise and celebrate excellence in this field. Entries are open to any business or other organisation operating within the UK's rail freight sector including train and terminal operators, logistics companies and supply chain or forwarding agents.
Judges will be looking for evidence of:
• innovation and flexibility in meeting customer requirements, including the adaptation of services or products to improve efficiency or attract new business;
• regular communication with customers and suppliers to ensure a high quality of service;
• targeted investment in rail freight, such as the introduction of new or improved rolling stock or the construction of new or improved terminal facilities;
• initiatives to attract more freight traffic to rail, resulting in modal shift, revenue improvements or business growth;
• performance and safety improvements.
Entries for the 26th Rail Business Awards will close on October 6, with the winners being announced at a gala dinner at the Hilton Manchester Deansgate on Thursday February 22 2024.
Further details of the award categories and how to enter can be found at https://www.railbusinessawards.com