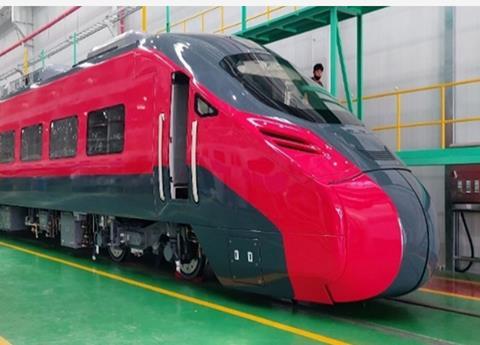 SOUTH KOREA: Rolling stock manufacturer Dawonsys has awarded Knorr-Bremse a firm order to supply electropneumatic braking systems for 208 electric multiple-unit cars.
In December 2018 Korail awarded Dawonsys a contract to supply 150 EMU-150 cars to replace the ageing loco-hauled Mugunghwa fleet used on long-distance stopping services. Korail ordered a further 208 cars in November 2019, with entry into service now expected by the end of Q1 2024.
The EMUs will have four or six cars with 264 and 392 seats, and a maximum speed of 150 km/h in operation.
In 2020 Dawonsys awarded Knorr-Bremse a subcontract to supply the compressed air supply, electropneumatic braking and wheel slide protection systems for the initial 150 vehicles. Knorr-Bremse says this was its first order to supply complete braking systems for this type of rolling stock in South Korea.
At the end of 2022 Dawonsys exercised a 'lower double-digit million-euro' option for Knorr-Bremse to equip the additional 208 cars.
Announcing the latest order on April 12, Knorr-Bremse said its investment in local testing and development facilities, customer-specific design of key components and success in obtaining certification were key factors in winning the initial order.
'Our long-standing partner Dawonsys has reaffirmed its confidence in the highly reliable braking technologies we've developed', said Dr Jürgen Wilder, head of the Rail Vehicle Systems division.
'As a result, we expect to benefit from the dynamic evolution of South Korea's rail sector, a highly promising mobility market, while at the same time bolstering our position as a key supplier of train systems in the region.'