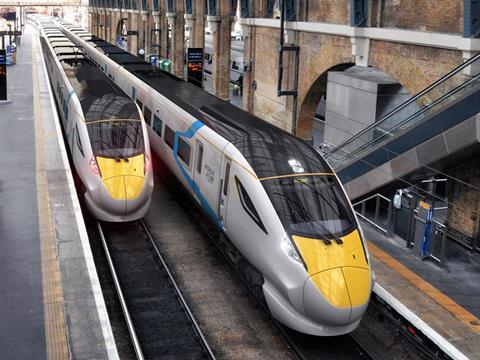 UK: With the first of five Hitachi-built trainsets delivered to the UK for fitting out, FirstGroup has appointed the leadership team for its low-cost open access service between Edinburgh and London, which is scheduled to start running from October 2021.
Helen Wylde has been appointed as Managing Director of East Coast Trains Ltd, with Matthew Lee becoming Commercial & Customer Experience Director.
A former Sales & Marketing Director at Parcelforce, Wylde was most recently Chief Engagement Officer at the Connected Places Catapult, overseeing high impact projects in the field of connected and autonomous transport and new mobility services.
Lee was Deputy Customer Experience Director at MTR Elizabeth Line, having held various operational roles at FirstGroup's Great Western Railway franchise.
According to FirstGroup, the low-cost service is primarily intended to 'tempt travellers between the two capitals away from unsustainable planes' and long-distance coach services, rather than competing head-on with LNER's existing InterCity East Coast business.
The service will launch with five trains a day each way, calling at Newcastle and Morpeth; the first northbound train will be scheduled to arrive in Edinburgh by 10.00. The company says this will provide 'more than 1·5 million additional seats every year' on the busy East Coast route.
First Rail is procuring a fleet of five-car Class 803 electric trainsets, which are being fitted out at Hitachi's Newton Aycliffe plant. These will be similar to LNER's Class 801 Azuma units, but fitted with higher density standard class seating throughout. They will also have conventional battery back-up power supply rather than the underfloor diesel powerpack specified by the Department for Transport for its Intercity Express Programme.
'We have an exciting 18 months ahead of us to bring the service to fruition' said Wylde. 'Everything from the assembly of our new Hitachi trains in the northeast, manufacturing our specially designed seats in Scotland, designing a digitised service, and meeting as many potential customers and stakeholders on the route as possible.
'Whilst all of us at FirstGroup are rightly focused on Covid-19 and maintaining the essential transport networks which key workers rely on to do their jobs, we're getting ready to work quickly to re-connect people and communities when the present restrictions on travel are over and the country emerges from the effects of the pandemic and begins to return to normal.'