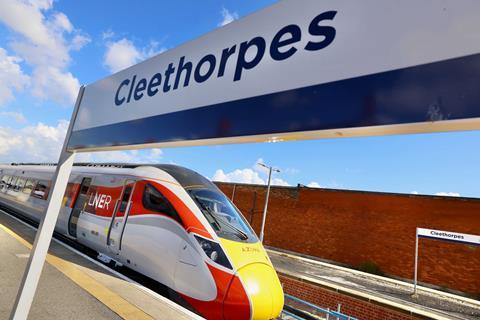 UK: An LNER Hitachi Azuma trainset has run to Cleethorpes on test to help inform any future decision about reinstating direct services between the northeast Lincolnshire seaside town and London King's Cross.
The trainset ran from Doncaster to Grimsby Town, Cleethorpes, Barnetby and Market Rasen on June 26, with a specialist team undertaking platform and train checks and assessments at each stop.
Rail Operations Group provided a Driver and Train Manager/Route Conductor, and Network Rail and Hitachi Rail supported the process.
Rail Business UK understands that one option being evaluated would see a single morning and evening service extended eastwards beyond LNER's existing terminus at Lincoln. This would require minimal investment in crew and rolling stock to deliver.
'This is a really positive step to see whether LNER can reinstate its direct services between Cleethorpes and London King's Cross', said LNER Managing Director David Horne. 'It is early stages yet and there is a lot more work to do to see whether these services can come back for the first time in decades, but today we have shown that with willpower and cross-industry collaboration, we might be able to see LNER services connect Cleethorpes to London once again.'