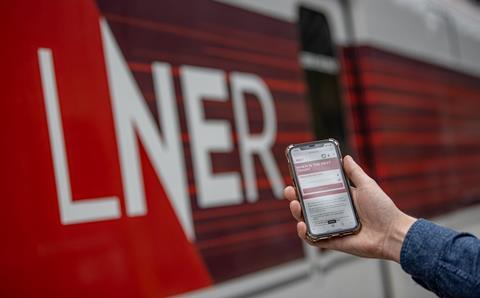 UK: LNER has announced the roll-out of single-leg pricing across all journeys where it manages the pricing, with tickets going on sale from May 14 for travel from June 11.
The operator said this would make ticketing 'simpler and more flexible'. Anytime Single, Off-Peak/Super Off-Peak Single and Advance Single fares will be available, with passengers able to mix and match.
All but a handful of LNER tickets will be sold as singles, with a few 'anomalies' making up a very small proportion of tickets which will also become single fares in due course.
Fares reform
Under the current National Rail fares system, which is largely inherited from the former British Rail, many return tickets are only marginally more expensive than a single journey.
To help inform government plans for reform of the fares system, in January 2020 LNER began trials of single leg pricing for journeys between London King's Cross and Leeds, Newcastle and Edinburgh.
A single fare was set at about half the cost of a return, with passengers able to combine peak and off-peak or train-specific and flexible tickets according to their needs. This is now being rolled out across the LNER network.
Market research
LNER said consumer research it had commissioned found that 55% of its customers agreed that single leg ticketing simplifies the way tickets work, 61% were in favour of it being extended, and close to 45% of non-customers were more likely to travel use LNER for long-distance journeys as a result of single leg ticketing.
Almost 9 in 10 of its customers currently purchase Advance tickets, and the pandemic has accelerated the move away from paper tickets.
'The expansion of single leg pricing will mean almost all of our customers will benefit from simpler fares and have the power to mix and match to get the best value', said LNER Managing Director David Horne on May 11. 'We believe that making fares simpler, smarter and fairer will encourage more people to choose rail, making a green and sustainable travel choice.'
'Important step'
Commenting on LNER's announcement, Andy Bagnall, CEO of the Rail Partners association of train operator owning groups, said 'the industry has been calling for this important step in simplifying fares for many years.
'We'd like to see people travelling across the whole network benefit from fares and ticketing reform, so want other operators to be rapidly afforded similar opportunities to trial this type of change.'