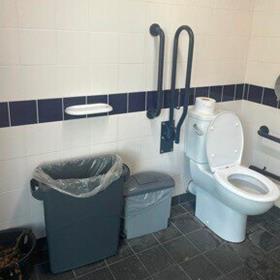 UK: Southeastern has upgraded the accessible toilets at 71 stations to Colostomy UK's Stoma Friendly standards, which are designed to help people change their stoma bags without hassle or embarrassment.
Features include a hook on the door to hang clothing, handbags and luggage; shelf space to avoid having to use unsanitary surfaces; a mirror; a disposal bin in every cubicle so people do not have to dispose of their stoma bag in public view; and signage.
'Confidence in the knowledge that suitable facilities exist across the network will I'm sure encourage the thousands of people living with a stoma who are potential Southeastern passengers to get onboard whether it be for work or leisure', said Giovanni Cinque, Marketing & Campaigns Manager at Colostomy UK which provided Southeastern with information about what was needed after the issue was raised by the operator's Accessible Travel Advisory Panel.
'We hope the vision will soon be replicated by other train companies.'