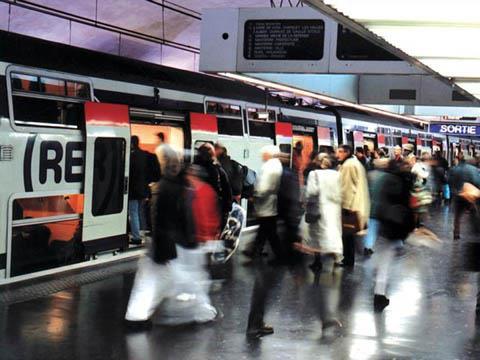 FRANCE: SNCF and RATP announced on June 17 that they were putting in place a unified management team to run Paris RER Line B, which is run by the national operator north of Paris Nord and by the city transport agency to the south.
Train crews have been operating through between the two halves of Line B for some time, instead of changing at Paris Nord, and control of the signalling on RFF's northern section was migrated to RATP's control room at Denfert-Rochereau last year.
The two operators said that putting in place a direction de ligne unifiée would improve the quality of service offered to passengers. The announcement follows extensive consultation with the unions, and saw the appointment of Jerome Lefebvre to head up the new organisation, reporting to both RATP President Pierre Mongin and his SNCF counterpart Guillaume Pepy.
Creation of the DLU is expected to address three main objectives:
improve the punctuality of Line B services;
provide better information for passengers;
facilitate the management of disruption.
Putting the responsibility for all Line B operations under a single line manager is expected to simplify operational processes and accelerate implementation of measures to improve the quality of service. Similarly, a pilot project is already underway to ensure that the same information is provided to passengers across the whole line, avoiding situations where SNCF is telling people one thing and RATP something different.
Between now and the end of this year, staff working for SNCF, RATP and RFF will be relocated to a single management office adjacent to Denfert Rochereau station. This is expected to facilitate dialogue and co-operation, particularly in response to any incidents that may arise.
The new structure is to be 'accompanied by a major investment plan' to renovate the line, funded by Ile-de-France transport authority STIF, the region, the national government, and the two operators. The 'B Nord+' project will see the modernisation of stations and the creation of dedicated tracks for Line B between Paris Nord, Roissy airport and Mitry-Claye, along with a redesign of the timetable and renovation of the rolling stock. This will be followed by a similar master plan for B Sud.