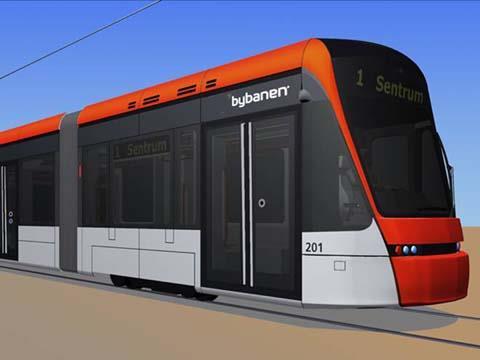 Canadian National has sold a section of track west of Toronto Union station to Greater Toronto transport authority Metrolinx for C$168m. It is part of the busiest GO Transit commuter corridor and provides access to a depot.
Queensland's Gold Coast rapid transit project team is evaluating expressions of interest from six consortia for the PPP contract to design, build, operate and maintain Phase I of the light rail line from Griffith University to Broadbeach. A request for proposals will be issued to shortlisted companies in June for submission in November. The preferred bidder should be announced in March 2011 with the operating franchise starting in May. The 13 km corridor is due to open in 2014.
DB Regio Tyne & Wear Ltd formally took over responsibility for operating the light metro network serving Newcastle and Sunderland on April 1. The concession agreement runs for seven years with an optional two-year extension, with regional transport authority Nexus paying the Deutsche Bahn subsidiary a fee based on meeting service quality and revenue protection targets (RG 3.10 p14).
The first Citadis low-floor tram for the 20 km Rabat-Salé light rail network in Morocco started trial running on a 2 km test track in the Hay Karima district of Salé on March 30. Alstom is supplying 22 pairs of Citadis trams to work the two-line network with 31 stops, which is due to open in December.
The Mayor of Berlin officially launched construction of a 2·2 km extension of U-Bahn Line U5 from Alexanderplatz to Brandenburger Tor, with three intermediate stations, on April 13. The line will connect U5 to the recently-opened U55 when it is completed in 2017.
On March 27 Marseille transport operator RTM opened a 700 m extension of tram Line 2 from Euroméditerranée Gantès to Euroméditerranée Arenc. A 2·5 km four-station extension of metro Line 1 from La Timone to La Fourragère is due to enter service later this year.
Jordan's Ministry of Transport has awarded Egis Rail a contract to prepare a feasibility and preliminary design report for a US$1·2bn urban rail network in Amman. The build-operate-transfer contract for phase I, between Raghadan and the University of Jordan, is due to be tendered in the third quarter of 2010 for award in early 2011.
On March 22 Manila operator LRTA expanded its light rail services to Balintawak, the first of three stations on a 5·7 km northern extension of Line 1. Completion of the link to MRT-3 at North Avenue is envisaged in November.
After six months of non-revenue testing, 10 prototype cars started carrying passengers on Chicago metro's Red Line on April 19. Bombardier is supplying 406 cars to replace the life-expired Series 2200 and 2400 cars. Once the prototypes have finished test runs on all eight lines, CTA will settle on final specifications and series production will begin. Delivery will be completed by 2013 at a cost of $603·6m. CTA hopes to order 300 more when funding becomes available.
On March 31 the Regional Transportation District signed a $143·8m agreement to purchase BNSF rights-of-way and other property for two FasTracks rail projects in Denver. The deal includes the Gold Line route to Arvada, Wheat Ridge and Golden and parts of various commuter rail corridors out of Union Station, including the airport and Longmont services. BNSF will relocate its facilities to other lines at a cost of $36·9m. The contract also spells out operational issues including the joint use of corridors by freight trains. RTD is awaiting bids from two consortia competing for a 40-year PPP contract for the Gold and airport projects.
Miskolc city council has chosen AnsaldoBreda to supply 31 Sirio low-floor trams for the Hungarian city's tram network, following the evaluation of four bids. AnsaldoBreda will supply two prototypes by January 31 2012, followed by three vehicles per month starting on April 30. The final two trams are due by January 31 2013. The contract is part of a project to reconstruct 9·6 km of existing route, modernise the depot, and build a 1·5 km extension from Diósgyör to a new transport hub at Felso-Majláth.
A Skoda 15T ForCity 100% low-floor articulated tram made its first trial run in Riga on April 15. The three-section unidirectional car, which arrived in the city on March 30, is 31·4 m long and 2500 mm wide with 60 seats and space for 260 standees. It has a maximum speed of 70 km/h. SIA Rigas Satiksme awarded Skoda a €51·7m contract in May 2008 to supply 20 trams by January 2011, with an option for 32 more. The 1524 mm gauge trams will be deployed on the renovated Route 6 between Radio iela and Jugla in early summer, replacing 40 of the oldest cars.