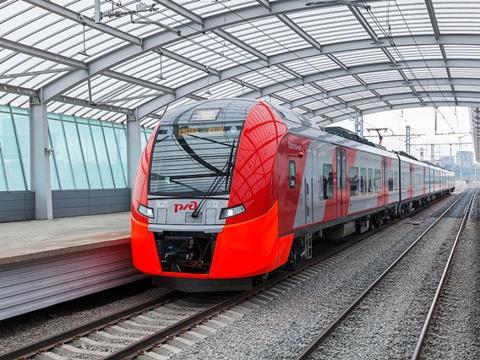 RUSSIA: Moscow Mayor Sergei Sobyanin has announced that the city plans to spend 550bn roubles per year on transport projects in 2018-20.
Planned projects include the development of an RER-style network by providing links between the existing radial rail routes into the city. Some existing lines would be upgraded, and large diameter tunnels would be bored where required. It is envisaged that services on these routes would run at headways of 5 to 10 min.
The project would be undertaken by the city authorities, Russian Railways and the Ministry of Transport. Other suburban railway projects planned for Moscow include relocating stations on radial lines to improve interchange with the Moscow Central Ring, and lengthening five-car trainsets on that route to seven cars.
Investment in the metro network would go towards construction of new lines, including the completion of the third ring, and rolling stock purchases to operate new lines and replace older trains.
The city plans to procure 300 electric buses per year by the end of 2022, to replace trolleybuses as well as part of its diesel bus fleet. Eight trolleybus routes are to be converted to catenary-free battery operation next year. This continues a trend which saw 44 trolleybus routes closed in the past four years, and the entire network could close by the end of 2020.