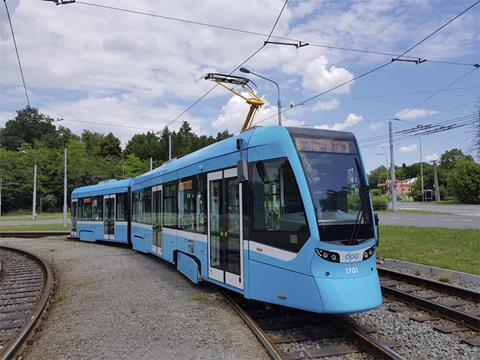 CZECH REPUBLIC: Tram operator DP Ostrava awarded a KC26·9m contract to Stadler Bussnang on March 3for the retrofiting of the city's Tango NF2 trams with obstacle detection assistance.
The contract includes the upgrading of two vehicles by September for KC4·88m as a trail project. The remaining 38 vehicles would be upgraded by 2024 at a cost of KC578 400.
The trial vehicles are expected to operate for six months as a test bed for the detection system. This includes cameras and 'weather-proof' radar sensors able to detect foreign objects up to 80 m away when travelling at up to 80 km/h.
If a collision risk is detected, the system will alert the driver using using audible and visual warnings. If the drives does not react, the system would automatically engage the tram's electromagnetic emergency brakes.