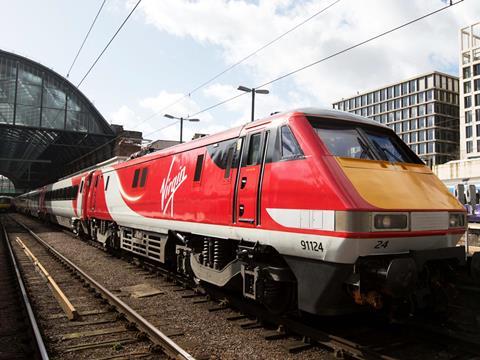 UK: New commercial terms for the InterCity East Coast franchise are being discussed with the Department for Transport, Virgin Trains East Coast's majority owner Stagecoach Group confirmed on June 28. Announcing its preliminary results for the year to April 29 2017, Stagecoach said it expected to finalise new commercial terms for the franchise 'during the next year'.
Stagecoach said 'the scope and timing' of the delivery of new Hitachi rolling stock under the government's Intercity Express Programme and Network Rail's 'reprioritised' infrastructure upgrade programme for the East Coast Main Line were 'not consistent with what was assumed in our franchise bid and then contracted'. The company believes that DfT is responsible for the associated financial risks.
Trading at VTEC 'has been challenging for some time', Stagecoach said. Revenue and profit were lower than anticipated in its 2014 bid, 'primarily due to macroeconomic and other external factors beyond its control', including terrorism and political uncertainty associated with the general election on June 8 and Brexit. In addition, payments to and from Network Rail in respect of operating performance remain 'volatile and uncertain'.
Stagecoach said VTEC had continued to meet its contractual obligations, making premium payments totalling £525m or 'around 30% more than the average monthly payments made by Directly Operated Railways', the state-owned company which had operated the services on an interim basis after National Express East Coast had been unable to meet the terms of the previous franchise.
Stagecoach expects VTEC to incur losses under the current contract, and has recorded an exceptional pre-tax charge of £84·1m for the year to April 29 2017 along with a £44·8m impairment of intangible assets. Stagecoach is committed to lend up to £165m to VTEC, of which 10% is to be funded by Virgin. As of April 29, the loan to VTEC was £57·5m.
'Taking account of our contractual rights and obligations', Stagecoach expects the franchise to be profitable under new commercial terms from 2019, with 'the potential to earn a profit margin commensurate with that of a direct award franchise'.
Stagecoach CEO Martin Griffiths said he was 'disappointed' that VTEC was making a loss, but was 'confident that we can return the business to profitability and build on the significant benefits we have delivered to date for customers and taxpayers.'
Looking more widely at the UK rail sector, Stagecoach said it was 'encouraged by early signs of moderation' in DfT's requirements for the loan commitments which owning groups must make to franchisees. Stagecoach also welcomed moves towards a full sharing of revenue risk rather than risk-sharing arrangements based on specific macroeconomic measures.
Stagecoach expects DfT to extend its East Midlands Trains contract from the current end date of March 4 2018 to November 2018.
Results at Stagecoach's UK Rail division (East Midlands Trains, South West Trains, 90% stake in VTEC), £m
2017
2016
Change
Like-for-like revenue
2 160·7
2 118·0
2.0%
Operating profit
31·0
66·7
(53·5%)
Operating margin
1·1%
3·1%
(170)bp
Results from Stagecoach's 49% stake in Virgin Trains West Coast, £m
2017
2016
Revenue
556·8
525·3
Operating profit
31·5
32·6
Profit after tax
24·8
24·2
Operating margin
5·7%
6·2%