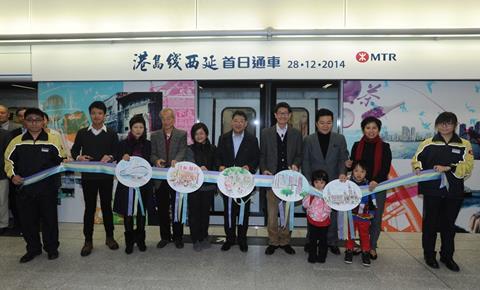 CHINA: Hong Kong's West Island Line extension was opened for revenue service on December 28, when passengers joined MTR Corp Acting Chief Executive Officer Lincoln Leong a for ribbon-cutting ceremony on the station platform at Kennedy Town station.
To mark the start of services, a formal inauguration ceremony was held on December 27, which was attended by the region's Chief Executive C Y Leung.
Serving the Western District on Hong Kong Island, the 3 km extension of the existing Island Line runs from Sheung Wan to Kennedy Town, with intermediate stations at Sai Ying Pun and Hong Kong University. Authorised in 2007 at a cost of HK$7bn, construction of the WIL began in 2009 and tracklaying was completed in September 2013. Concerns had been expressed earlier this year about delays to the fitting-out of the stations, but in October MTR Corp committed to have the WIL in service by the end of 2014.
As well as escalator and stair exits to street level, the intermediate station at HKU is connected to the university campus on the Island's Mid-Levels by express lifts. This station is intended to serve as an interchange with the South Island Line (West) when that route is completed after 2020.