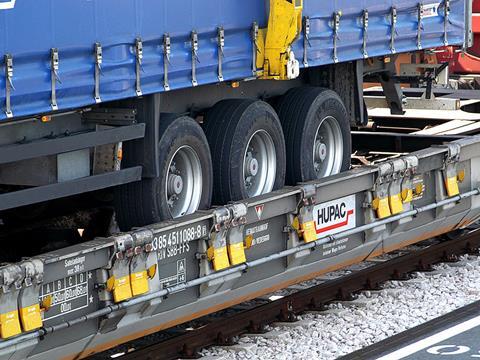 Hupac Group recorded an 8% increase in traffic in the first half of 2018, with trans-Alpine transport through Switzerland up 9.4%. Hupac expects 'continued constant growth' for the second half of 2018, supported by a 15% increase in its wagon fleet and the deployment of eight multi-system locomotives.
PKP Cargo has called tenders for the supply of 936 container wagons of various types in 2019-22.
Polish operator Laude has ordered 80 container wagons from Tatravagónka under a contract worth €4·8m.
Russian oil and gas producer Slavneft-Yanos has signed a contract with United Wagon Company covering the supply of 32 high-capacity tank wagons to carry molten sulphur and sulphuric acid. Delivery is scheduled before the end of January 2019. Designated type 15-6913, the tank wagons have a volume capacity of 44 m3 and a maximum load capacity of 72 tonnes, an improvement of 9 tonnes on existing designs. The corrosion-resistant steel tank is designed to provide better protection for hazardous cargo.