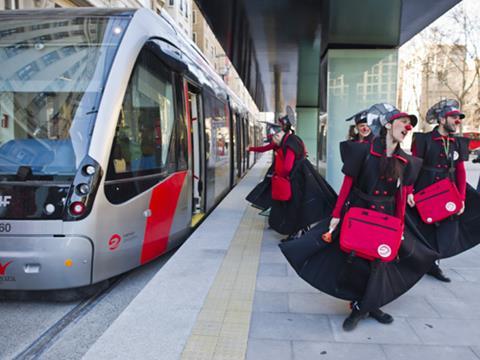 SPAIN: Line 1 of the Zaragoza tram network grew by a further 844 m on December 20, with the opening of the section from Plaza de España to César Augusto and Plaza del Pilar. Extension of the network into the heart of the old city has also seen a further addition to Spain's longest section of catenary-free tram route.
Opening to Plaza del Pilar is expected to increase weekday ridership by 4 000 to 50 000 passengers a day on Line 1, now running for a total of 7⋅56 km from Mago de Oz in the southern suburb of Valdespartera. Weekday ridership is forecast to double with the opening of the final section to Parque Goya north of the city centre, now expected to enter service in April 2013.
Extension of the tram route to Plaza del Pilar has involved an extensive programme of improvements to the urban fabric, including the creation of a total of 29 175 m2 of pedestrian areas. Utilities such as water, gas and electricity are now housed in a new service tunnel running beneath Avenida César Augusto.