The Dubai Metro is officially open, reports Kathryn Semcow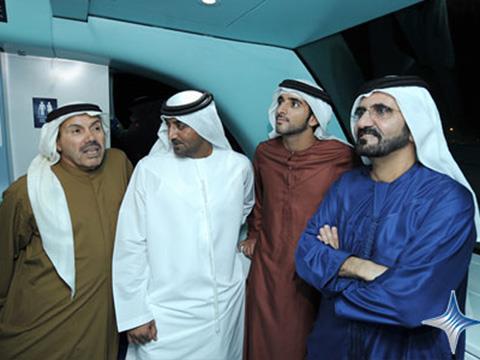 UAE: At 9pm on September 9 2009 Sheikh Mohammed bin Rashid Al Maktoum, UAE Vice-President, Prime Minister and Ruler of Dubai, bought the first ticket and boarded the train at the Mall of the Emirates station for the metro's inaugural ride. Over 100 VIPs and members of the press crowded around him, sharing their applause and exclamations of pride.
No doubt it was a proud day for Maktoum, who has followed the metro's three years of construction closely, describing the project as a catalyst for his city's growth.
'Seeing the smile on the face of His Highness today gives us all encouragement and keeps us enthusiastic about this project,' said Mattar Al Tayer, Chairman of the Board and Executive Director of Dubai's Roads & Transport Authority, shortly after Sheikh Mohammed left Rashidiya Station, the final stop on his route.
'The launch of the Dubai Metro brings to fruition the key element of His Highness Sheikh Mohammed bin Rashid Al Maktoum's vision for developing Dubai's transport infrastructure and has been completed in record breaking time,' added Al Tayer.
No one seemed concerned, however, that the inaugural route included only 10 of the 29 planned stations for the 52 km Red Line, which runs from Rashidiya to Jebel Ali. The remaining 19 stations are still under construction, and the RTA says it will open them in phases over the next few months, completing them in early 2010.
The crowd also seemed to forget the cost of the metro project, which has escalated from an initial estimate of 15·5bn dirham to 28bn. The fact that Dubai could now boast the world's longest driverless metro was enough to declare the project a success.
But Al Tayer noted that the true test of success will begin when the 10 stations open to the public at 06.00 on Thursday. 'We are only half through, because tomorrow the big responsibility starts – operations and maintenance. To offer quality service to the rider is very important.' The metro will be operated by Serco.