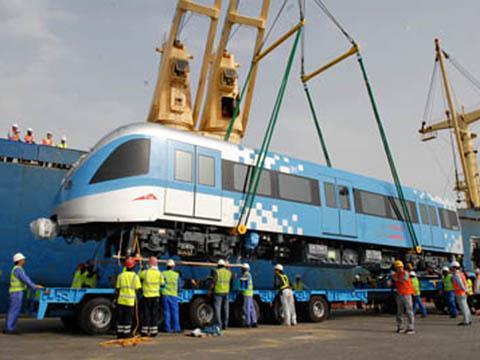 UAE: The Dubai Roads & Transport Authority signed a Memorandum of Understanding with the UK Office of Rail Regulation on February 9. The agreement followed RTA's successful co-operation with ORR to assess and certify safety on Nakheel's Palm Jumeirah Monorail, which is due to start revenue service in April this year.
ORR will be responsible for the certification and regulation of the rail network in Dubai, to ensure public safety, as well as the development and implementation of health and safety regulations, with inspection and enforcement powers. It will also provide support to RTA in regulating Dubai's railways, setting up databases to monitor operator performance and training RTA staff.
RTA is planning legislation which will impose fines and penalties on operators in case of non-performance. The legislation would apply to both Serco, which will operate Dubai metro's Red and Green lines, and Singapore's SMRT Engineering, which signed a 300m dirham contract with Nakheel on February 10 to operate and maintain the Palm Jumeirah monorail.
Following RTA approval of initial design submissions, the Alstom-Besix consortium has started work on Phase 1 of the Al Sufouh tram project. Phase 1 includes construction of the 9·5 km route from Dubai Marina to Mall of the Emirates, nine stations and the provision of eight trams. The 44 m long Alstom Citadis vehicles will have a diamond-shaped front-end design and carry about 300 passengers. Vehicle doors will align with passengers screen doors on the platform to enhance safety and maximise efficiency of air conditioning inside the stations and the trams.