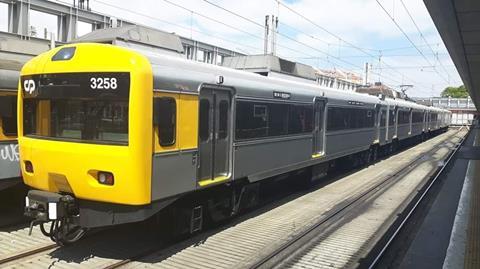 PORTUGAL: An allocation of €50m from the Cohesion Fund to support modernisation of the 25 km suburban railway between Lisboa and the coastal town of Cascais was approved by the European Commission in early July.
This forms part of infrastructure manager Infraestruturas de Portugal's Ferrovia 2020 national investment plan, and is scheduled to be completed by the end of 2023 within a budget of €77m.
A key element will be changing the power supply of the self-contained line from 1∙5 kV DC to the 25 kV AC which is used on the rest of the national network. This will require construction of a substation at Sete Rios station near Lisboa.
The line is also to be resignalled with ETCS Level 2, with the renewal of telecoms equipment and installation of modern control and monitoring systems.
The existing fleet of 60 year old EMUs used by operator CP is expected to be replaced as part of the modernisation programme.
The suburban line which serves 17 stations is the second busiest railway route in the country, and in 1926 became the first line in Portugal to be electrified.