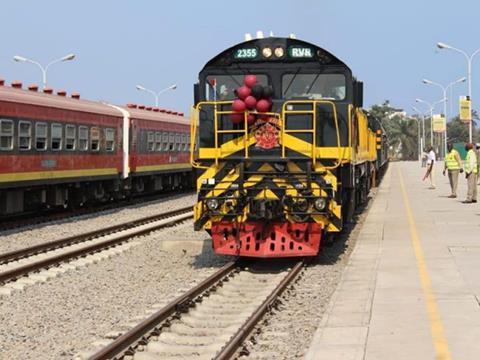 INTERNATIONAL: On August 2 a passenger train set out on the return leg of a coast-to-coast trip across Africa. Departing from the port of Lobito on Angola's Atlantic coast and bound for the Tanzanian port of Dar es Salaam on the Indian Ocean, the train had arrived in Lobito on July 30, having left the Tanzanian city two weeks earlier.
Operated by private company Rovos Rail, the luxury cruise train carrying more than 50 passengers was the first to complete the 4 339 km journey across the African continent using the 1 067 mm gauge railways built to serve the Copperbelt. Marketed as the Rovos Trail of Two Oceans Angola Tanzania, the train travelled over the Tazara railway to Kapiri Mposhi and then via Ndola to the Zambian border with the Democratic Republic of Congo at Sakania.
From there the train continued through the Copperbelt to Lubumbashi and Dilolo near the border with Angola, then crossing into Angola to reach Luau where it joined the Benguela railway that was rebuilt by Chinese contractors in 2008-17. One-way prices for the trip started at US$12 820. Rovos Rail CEO Rohan Vos said that it had taken 'over two years to acquire permission and have our proposed itinerary approved by the respective authorities'.
The Benguela railway carried an initial shipment of 1 000 tonnes of manganese ore from the Kisange mines in the Democratic Republic of Congo to Lobito in March 2018. The first 1 200 tonne shipment of copper ore from the DRC to travel over the Benguela railway reached Lobito on September 22 last year.