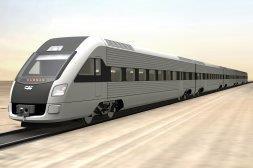 MIDDLE EAST: Development of a 1 940 route-km rail network linking the six member states of the Gulf Co-operation Council is moving closer to fruition, with a feasibility study to be completed by March.
At a meeting of finance and economics ministers held in Dubai on November 26, GCC Secretary-General Abdulrahman bin Hamad Al Attiyah said that 'only a few minor aspects' remained to be completed, and he hoped to have draft proposals available for a summit of regional leaders being held in Masqat during December.
Since September 2007 Systra and Canarail have been working with local partners to assess the freight and passenger markets as well as the environmental impact, safety and profitability of various lines. The consultants have been working with the governments of Oman, the United Arab Emirates, Qatar, Bahrain, Saudi Arabia and Kuwait, and they expect to deliver a construction programme shortly. A further study to be completed by March will look at extension of the rail network from Oman to Yemen, which is currently negotiating to join the GCC.
According to Systra, the GCC has ratified the study, 'and it is now a case of deciding on the type of structure that will assume management of this new rail link.' The favoured option is a jointly-owned company with the six countries each contributing a share of the equity. The lines are being designed for 200 km/h operation, with trains initially diesel-powered. The consultants believe the first lines could be operational by January 2016; construction is expected to take around three years at a total cost of US$11·2bn, plus a further US$3·1bn for land acquisition.
On November 13 US engineering giant KBR announced that it had been awarded a contract for design and project management of the 40 km causeway between Qatar and Bahrain, which will carry both road and rail links. Promoter of 'the world's longest marine causeway' is the Qatar-Bahrain Causeway Foundation, established in 2006 by the Emir of Qatar and King of Bahrain. A high speed link to Bahrain is one of several rail projects in Qatar being developed under a recent consultancy agreement with DB International (RG 10.08 p760).
Meanwhile, tendering is reported to have started in late November for construction of 800 route-km of railway in the UAE. This will include a trunk line linking Khawr Fakkan and Al-Fujayrah on the Gulf of Oman to Ghuweifat on the Saudi border, with branches serving the main cities and ports. The 575 km first phase linking Dubai and Abu Dhabi is expected to be operational by 2011, and the remainder by 2015.