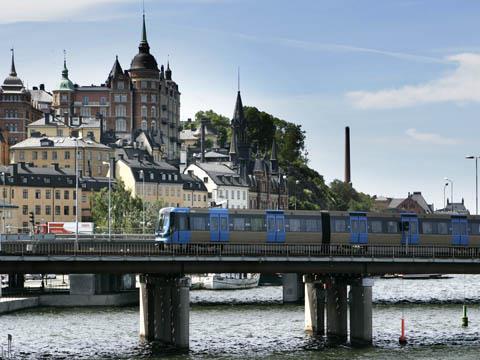 SWEDEN: Stockholm public transport authority Storstockholms Lokaltrafik has awarded Ansaldo STS an €80m contract to replace the existing signalling on the metro's Red Line with communications-based train control in order to increase capacity on the route.

The Red Line is operated as two routes, T13 from Norsborg to Ropsten and T14 from Fruängen to Mörby Centrum, which share a central section between Liljehomen and Östermalmstorg. A maximum of 24 trains/h currently serve the shared section during peak hours but forecasts suggest that at least 36 trains/h will be required to meet future travel demand.

Ansaldo STS will provide CBTC signalling for the 41·2 km line and 36 stations as well as onboard equipment for 30 trains. The upgrade project is due to be completed in 2014 and must be implemented without interrupting normal daily services.

The contract also includes options to provide maintenance for up to 25 years and to support migration of the Red Line to fully driverless operation in the future. The upgraded line will initially operate in driver-supervised STO (semi-automated train operation) mode.

The signalling tender issued by SL in April 2009 also envisaged that the 25·5 km Blue Line with 20 stations would be upgraded within 10 years.