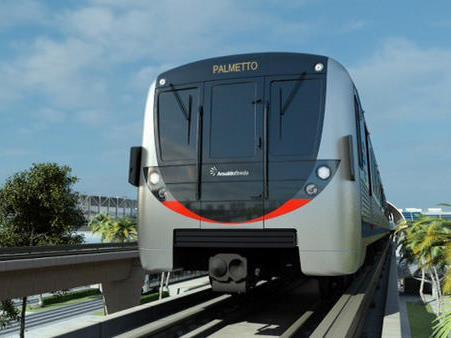 USA: Miami-Dade County Commissioners gave Miami-Dade Transit the formal go-ahead on November 8 to award AnsaldoBreda a $300m contract to supply a fleet of metro cars to replace the current Budd stock on the Metrorail network.
The air-conditioned coaches are to have 'an elegant exterior and interior design', with bicycle racks, wi-fi, LED lighting, CCTV, and digital information and advertising displays.
Six prototype cars are scheduled to be delivered in 2015, with 130 series cars following over two years. Components are to be produced at AnsaldoBreda's Italian facilities, with assembly to be undertaken at a new plant which the company is to build in Miami-Dade county. The contact includes the provision of spare parts, staff training and a simulator.
The order is being funded using $313·8m from transit system sales surtax revenue bonds. AnsaldoBreda's bid came in almost $5m less than the nearest competitor.
'This further success for AnsaldoBreda shows how our worldwide re-positioning programme is achieving the expected results', said AnsaldoBreda CEO Maurizio Manfellotto. 'We are increasingly able to offer innovative products both in terms of technology and quality, maintaining a high level of competitiveness. On this occasion we have taken the lead over our French and Spanish qualified competitors in the US market where we have been present for many years.'