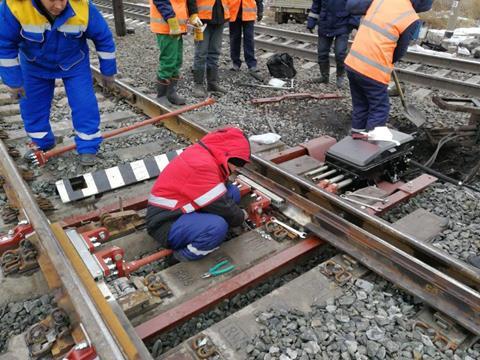 KAZAKHSTAN: In co-operation with national railway KTZ, the KazElektroPrivod equally-owned joint venture of Alstom and SOP Trade has completed a six-month test of a P80 point machine on a turnout designed by Prommashkomplekt and installed at Shiderty station.
The locally-manufactured P80 has a design life of 20 years and is suitable for main lines, freight and metro use at speeds up to 180 km/h. The KTZ Ekibastuz signalling and communication department found no technical issues during the tests, which included 1 200 operations in winter temperatures as low as -40ºC.
'We are very pleased that these field tests proved our point machines' flexibility and adaptability to Kazakhstan's environment and maintenance conditions, as well as demonstrated uninterrupted operation and absolute compatibility with the upgraded turnouts manufactured by our partner in Kazakhstan', said Guillaume Tritter, Alstom Managing Director for Kazakhstan.